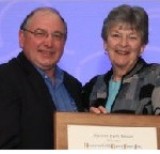 Dennis and Marsha
Haubenschild
Source: IDFA press release
Haubenschild Dairy Farm, Inc. of Princeton, Minn., was named the 2010 Innovative Dairy Farmer of the Year this week at the International Dairy Foods Association's Dairy Forum 2010.

Dennis and Marsha Haubenschild received the award from IDFA Vice Chairman Dave Fuhrmann, who is president and CEO of Foremost Farms, USA, Cooperative.

Now in its 12th year, this award recognizes U.S. dairy producers that apply creativity, excellence and forward thinking to achieve greater on-farm productivity and improved milk marketing. The award is co-sponsored by IDFA and Dairy Today magazine.


Haubenschild Dairy Farm, Inc., operates on 1,300 acres with 14 full-time employees and 1,100 cows. According to the judges, the farm was selected for its continued emphasis on innovative solutions and ideas, particularly in the areas of renewable energy and sustainability.
The farm was the first to sell carbon credits on the Chicago Climate Exchange, and owner Dennis Haubenschild met with then-Vice President Dick Cheney to explain the role that dairy operations can play in renewable energy. Teaming with the University of Minnesota, the farm is now helping to develop the prototype for a hydrogen-fuel cell-technology system. They hope to find ways to fuel the farm's tractors with hydrogen fuel cells made with biogas from the farm's digester.
"Dennis Haubenschild is an innovative leader, friend to the environment and a steward of the industry who uses education and experience to teach others," said Greg Steele, who nominated the farm for the award. Steele is vice president of Agribusiness Capital for AgStar Financial Services.
The farm also is featured in the January issue of Dairy Today magazine.
Previous winners of the Innovative Dairy Farmer title are Mason Dixon Farms, Gettysburg, Pa. (1999); Clauss Dairy Farms, Hilmar, Calif. (2000); Baldwin Dairy/Emerald Dairy, in Emerald, Wis. (2001); Si-Ellen Farms in Jerome, Idaho (2002); Pagel's Ponderosa Dairy of Kewaunee, Wis. (2003); C Bar M Dairy, Jerome, Idaho (2004); North Florida Holsteins, Bell, Fla. (2005); KF Dairy, El Centro, Calif. (2006); Joseph Gallo Farms, Atwater, Calif. (2007); KBC Farms, Purdy, Mo., (2008); and High Plains Dairy, Friona, Texas (2009). A call for nominations for the 2011 Innovative Dairy Farmer award will be released this summer.


The International Dairy Foods Association (IDFA), Washington, DC, represents the nation's dairy manufacturing and marketing industries and their suppliers, with a membership of 550 companies representing a $110-billion a year industry. IDFA is composed of three constituent organizations: the Milk Industry Foundation (MIF), the National Cheese Institute (NCI) and the International Ice Cream Association (IICA). IDFA's 220 dairy processing members run more than 600 plant operations, and range from large multi-national organizations to single-plant companies. Together they represent more than 85 percent of the milk, cultured products, cheese and frozen desserts produced and marketed in the United States. IDFA can be found online at www.idfa.org.