Personal protective equipment is used across many industries, and during the COVID-19 pandemic, many agri-businesses are donating their inventory of masks and other PPE. 
Agtegra Cooperative will donate more than 4,000 N95 respiratory masks to health care facilities and nursing homes in South Dakota and North Dakota. The cooperative is waiting for a delivery of Tyvek suits, and once they arrive, those will be donated as well. 
"It is essentially important for communities to band together right now with every resource possible," Agtegra Director of Safety and Environmental Beth Locken said in a news release. "The healthcare providers in our communities help protect and care for our neighbors, friends, family members, patrons, and colleagues. The more we work together and assist our healthcare providers when needed, the faster we can help move past this."
United Grain Corporation is a grain exporter based in Washington, and the company donated N95 masks and disinfecting wipes to Legacy Salmon Creek Hospital.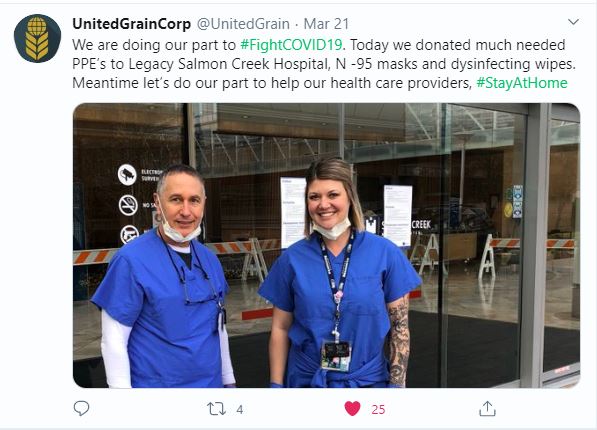 Today, the CF Industries location in Donaldsonville, Louisiana donated P-100 masks, N-95 masks, gowns and shoe covers. The company says the donations went to a local skilled nursing facility that has had positive COVID-19 cases.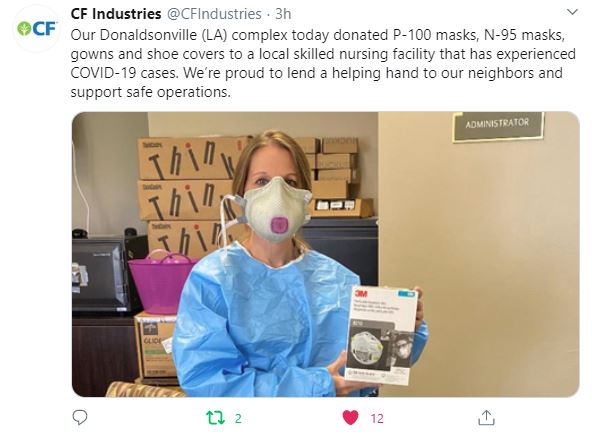 On March 22, Harbor Freight announced it will donate its entire inventory of: 
           •  N95 Masks
           •  Face Shields
           •  5 and 7 mil Nitrile Gloves
The company says it's focusing the donations to be send to hospitals with 24-hour emergency rooms.