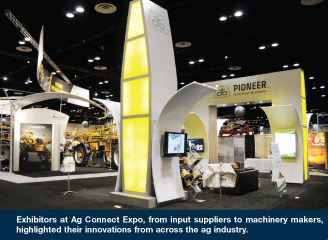 With the mission to provide a new kind of event for agriculture, Ag Connect Expo is off to a strong start. More than 7,700 registrants convened for the inaugural event, Jan. 13 to 15, with a special preview day on Jan. 12, at the Orange County Convention Center in Orlando, Fla.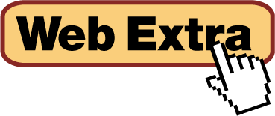 Farmers, agribusiness professionals and international delegations from around the world gathered for the event, hosted by the Association of Equipment Manufacturers (AEM). The program was centered around networking, education and innovation.
"This event shows what we can do when we bring people together in one place at one time," says Charlie O'Brien, vice president of agricultural services for AEM. "We've combined educational sessions, innovation on
the trade show floor and networking with people from around the globe."
Fast Facts
Here's a snapshot of who attended and exhibited at Ag Connect Expo 2010.
312 exhibitors occupied 167,800 sq. ft. of net exhibit space
30 education sessions, of which 35% of attendees signed up for at least one 
 More than 7,700 registrants
More than 80% of producer registrants were farm owners/operators
Average acreage of farmer attendees was 2,900 acres per farm
More than 1,800 agribusiness professionals and 800 dealer personnel
Attendees from 49 out of 50 states
About 20% of attendees were from more than 62 countries outside the U.S., including nine of 10 Canadian provinces
International groups came from more than 20 countries, and 16 delegations came through the U.S. Department of Commerce's International Buyer Program 
Exhibit pavilions from Argentina, Brazil, Canada, China and Europe, as well as the International Fluid Power Exposition and a shortliners pavilion from the Farm Equipment Manufacturers Association 
More than 40 supporting organizations, including Agritechnica and its organizer DLG (German Agricultural Society)
Registrants came from 49 of the 50 U.S. states, and more than 60 countries were represented. This diversity provided global perspective in discussions throughout the expo and at scheduled networking events.
"Ag Connect is a great linking point for the broader business of agriculture," says Doug DeVries, senior vice president of global marketing services, John Deere Agriculture and Turf Division. "AEM and ag equipment manufacturers are the starting point for the show, but this is an opportunity to bring all of agriculture together. Agriculture is probably as global as any industry that exists today, and we have to truly provide value to producers who are operating in that challenging environment. We believe we can do that by providing a global perspective on our business, broader than just equipment and extending beyond North America."
There were 30 education sessions offered as part of Ag Connect Expo. Farm Journal hosted the high-yield track, with presentations from Farm Journal Field Agronomist Ken Ferrie and Pro Farmer editor Chip Flory bringing in full crowds. As part of the Legacy Project, succession planning expert Kevin Spafford organized an all-morning workshop for farm families preparing for the next generation of leadership.
On the trade show floor, 312 exhibitors from around the world showcased the latest innovations for agricultural production. The companies present included those from the farm machinery, technology and ag input sectors. Exhibitors went above and beyond in their displays, some building two-story exhibits to accommodate observation decks or private meetings.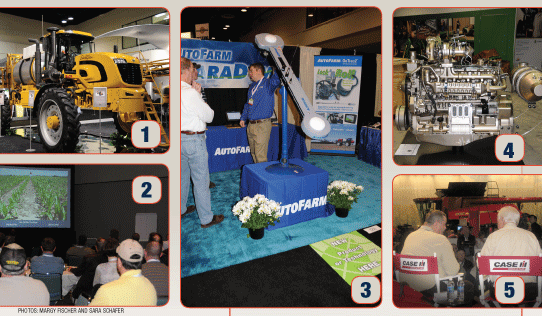 1. AGCO's ElectRoGator demonstrates the electric drive propulsion concept.
2. Farm Journal Field Agronomist Ken Ferrie presents yield tips from Farm Journal Corn College.
3. AutoFarm highlights its new ParaDyme system.
4. John Deere exhibits its engine design platform to meet upcoming interim Tier 4 regulations.
5. Pro Farmer editor Chip Flory and Al Pell host a "U.S. Farm Report" live TV taping at the Case IH booth.
The highlighted technologies ranged from telemetry for remote equipment monitoring to evolutions in tire design to maximize machinery efficiency. Another newsmaking event in agriculture, the upcoming Interim Tier 4 emission standards for off-road equipment, was spotlighted as AGCO, Cummins and John Deere displayed their engine systems designed to meet the more stringent environmental regulations.
Product pavilions helped organize the exhibit layout. The show floor included exhibit pavilions representing products from Argentina, Brazil, Canada, China and Europe, as well as the International Fluid Power Exposition (IFPE) pavilion and the shortliner pavilion from the Farm Equipment Manufacturers Association (FEMA).
The gathering was amplified by many co-located industry events, which included Agrievolution (a global convocation of ag machinery leaders), the American Society of Agricultural and Biological Engineers (ASABE) Agricultural Equipment Technology Conference and AE50 innovation awards, the State Agriculture and Rural Leaders Association annual Legislative Ag Chairs Summit, the Fifth U.S.-Mongolia Business Forum, the Western Canadian Wheat Growers Association Annual Convention and exhibitor dealer meetings.
---
You can e-mail Margy Fischer at
[email protected]
.