lsmith@farmjournal.com
Open farmland is hard to find in central New Jersey, where McMansions have popped up like mushrooms fertilized by Wall Street profits. Much of the land that isn't landscaped lawns and gardens is surrounded by white fences and dotted with purebred horses. In this upscale atmosphere, Rick Stern stands out as one of the last traditional farmers in an area that housed potato, grain and livestock farms when he was a child.
He battles property taxes among the highest in the nation, congested roads and landlords who are all about money, not loyalty. His biggest field is 50 acres. The Sterns own fewer than 200 acres; taxes run $30,000. Landowners want enough rent to pay their taxes—equal to about 40 bu. of corn on land that historically averages 130 bu.
"I need $70,000 income just to cover my overhead for taxes, insurance and the like, before production expenses," Stern says. "My granddad spent pennies to make dollars; dad spent dollars to make pennies; I spend $10 to $12 to make $1."
Machinery has to fold to 11' wide for transport—and traffic is a nightmare, especially in the summer. The agricultural support industry is all but extinct; the nearest machinery dealer is 70 miles away.
Yet Stern and his father, Dick, farm 1,200 acres of corn, soybeans, hay, and rye and wheat straw, as well as vegetables. His secret: Recognizing needs for goods and services and filling them.    
Hay for Horses.
Horse operations demand the highest quality hay, more than Stern can supply. So he found farmers as far away as Ohio with the desired quality and built warehouses for it.
He bought semi trucks and hauls hay and straw. "We sell 100 to 120 trucks of hay and straw a year, grossing about $600,000," he says.
Food for the People.
Dick was the one who recognized the potential in vegetables. Today, they grow 15 acres of steak and plum tomatoes, peppers and watermelons. They sell to local supermarkets, restaurants and roadside stands.
"Customer service is one of the top features we deliver," he says. High quality also is key: "Our best pack tomatoes often bring $1 to $2 better than the standard run."
Soybeans for Here and There
. The Sterns had good local demand for their row crops in a Perdue feed mill—but it's owned by a developer now. "Owning bins and three semi-trucks may be a competitive advantage in the future," Stern says.
Stern, who serves on the United Soybean Board's production committee, also has access to containers that come in from China and Taiwan with consumer goods for New York City. He fills these with high-quality soybeans for export.
"We grow varieties with 40% protein," Stern says. A local co-op bags the soybeans and sells them to New York City for tofu manufacturing.
Debating the Future.
While most of the remaining farmland in his area is under farmland preservation, the Sterns have not taken that step. "We don't have a time frame in mind, but eventually I'd like to sell here and move to a farm in a more open area, such as New York State," Stern says. "For now we are keeping our options open."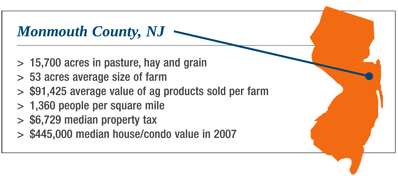 ---

Top Producer, February 2010