Money and financial issues ( MGN )
There's been some good news about milk prices lately. The USDA is reporting the July Class III milk price was at $17.55. Additionally, some dairy farms in California are about to become more than just milk and cheese. Manure from several farms will be turned into pipeline quality renewable natural gas. AgDay's Clinton Griffiths explains more in the video above.
The USDA reported the July Class III milk price at $17.55, up $1.28 from June prices and up $3.45 from July 2018. Class IV prices almost broke the $17 ceiling, landing at $16.90 up 7 cents from June and $2.76 from a year ago. The Class III price is at its highest level since December 2014.
Fueling the price increase was a jump in components. Cheese prices took a nice jump, landing at $1.8238 per pound which is up from $1.6910 in June and up considerably from July 2018 when the price was $1.4868 per pound. The price for protein also increased, moving from $2.0046 in June to $2.4032 in July.  Butter and butterfat prices were up slightly.
Prices have increased steadily throughout 2019, fueled by stagnant milk production and relatively consistent domestic and global demand. Cow numbers have fallen considerably, while production per cow has only seen modest increases. 
Economists predict the strong price trend to continue throughout 2019 as production continues to stall and demand grows as the Holiday season arrives.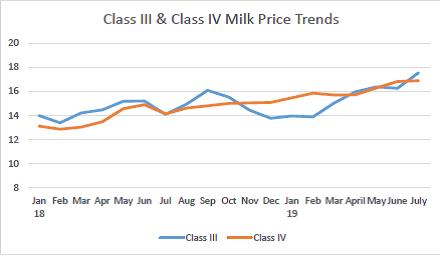 Southern California Gas Co. (SoCalGas) and Calgren Dairy Fuels announced this week they have completed a dairy renewable gas facility, which takes methane from dairy manure and converts it into pipeline quality renewable natural gas (RNG).
This first phase of the project collects methane from four large dairy farms and converts it into pipeline quality, renewable vehicle fuel. Ultimately, the RNG will be used to fuel ultra-low emissions trucks and buses, generate clean electricity, and heat homes and business.
Plans are to add another eight dairy farms to the system this year, making it the largest dairy biogas project in the country.
"This facility alone will eventually capture methane produced from the manure of more than 75,000 cows, preventing about 130,000 tons of greenhouse gas from entering the atmosphere each year, the equivalent of taking more than 25,000 passenger cars off the road for a year," says Walt Dwelle, principal owner of Galgren Renewable Fuels. 
For its part, SoCalGas is hoping to make the RNG from the project available as a fuel for the homes of the company's 21 million customers across southern California. SoCalGas is pursuing regulatory authority to implement a broad RNG procurements program. Its goal is to replace five percent of its natural gas supply with RNG by 2022. 
The dairy digesters in the Calgren project are partly funded by California's Dairy Digester Research and Development Program. A 2016 California law requires that 40% of methane from state dairies be captured, with provisions to deliver that energy to various customers. There are currently 30 dairy farms with operational RNG projects with 50 more in various stages of development.
For more Dairy Report coverage, watch: