Ohio's MVP Dairy takes an innovate approach to business. ( Top Producer )
Western Ohio's MVP Dairy takes an innovate approach to business
For decades, the VanTilburg family of western Ohio has made stewardship their No. 1 priority. They started with no-till, then moved into cover crops and continued to evolve their farming practices even though financial incentive was minimal. 
The family was ready to exit the commodity market roller coaster, which they saw as the only path for their commitment to stewardship to make financial sense. 
"Five or six years ago, my brothers and I were looking to get out of the big swings of the commodity market," says Kyle VanTilburg. "We'd been doing regenerative-type agricultural practices for years, seeing the agronomic benefit but not really the financial benefit."
While researching ideas, the family discovered Dannon could offer financial incentive for the stewardship practices they were already implementing on their farm.  
"Dannon wanted transparency to show where their yogurt comes from — basically from soil to cup. We were doing a lot of the practices on-farm they were looking for," VanTilburg explains. 
There was a problem: The VanTilburgs weren't dairy farmers. 
By chance, the VanTilburgs, which includes three brothers, met the four McCarty brothers from Kansas at a farm sale in Ohio. The McCarty family was looking for land in Ohio and the VanTilburgs were looking for an avenue to enter the dairy business. 
The McCartys had been in a relationship with Dannon since 2010 and were hoping to expand their business into other milk sheds. At the same time, the Dannon plant in Ohio was looking to move into the non-GMO market. 
The VanTilburgs and McCartys formed a partnership: MVP Dairy. The two families are separated by thousands of miles but joined by their business priorities. Their commitment to regenerative ag is now paying off in spades through a non-GMO contract with Dannon. 
MVP Dairy. The first cows at MVP Dairy were milked in November 2018. Today 4,500 cows live in six freestall barns. The operation is home to a range of technology from activity monitors to manure separators. 
On the crop side, the partnership uses a variety of sustainable farming practices to take care of the environment and maximize return on the 4,500 acres they farm. The MVP team uses cover crops on 95% of their fields, no-till methods, grid soil sampling, grass filter strips along open ditches, precision irrigation and variable-rate nutrient application technology.
Both families have an unwavering commitment to sustainability. 
"Sustainability, whether environmental, community or business, has always been a keystone principle for our business," says Ken McCarty. "We were inspired the VanTilburg family shares those same values."
While the challenges vary in Ohio versus Kansas, McCarty says the core principles of caring about water, soil health, animal welfare, community well-being and employees all still hold true. 
"The reality is sustainability is important for many reasons," he says. "We depend on the communities we live in to sustain us, so it's imperative we sustain them. We depend on all the team members we work with every day. So, it's important that we take care of them. Especially when you consider we hold our farms to very high standards. It takes a lot of people to do what we do, but it takes even more people to do what we do to the standard we want them to do it."
Dial in the Details. Attention to detail is fundamental on MVP Dairy. The team uses an abundance of technology and data to direct each and every decision. 
"By paying attention to details, allowing those details to influence the data and letting the data drive the decisions, it allows us to run 
our farm with confidence, and it also solidifies our relationships," McCarty explains. 
Like the other dairies the McCarty family owns, MVP uses a remote video monitoring program. 
"Those cameras are our monitor at random 24/7, and every week we receive reports detailing good things and bad things they've recorded," McCarty says.
At the end of the day, everything at MVP dairy is intended to ensure safety and welfare of the animals and employees, McCarty says. 
"We're trying to make our farm better and ultimately our cows happier," he says.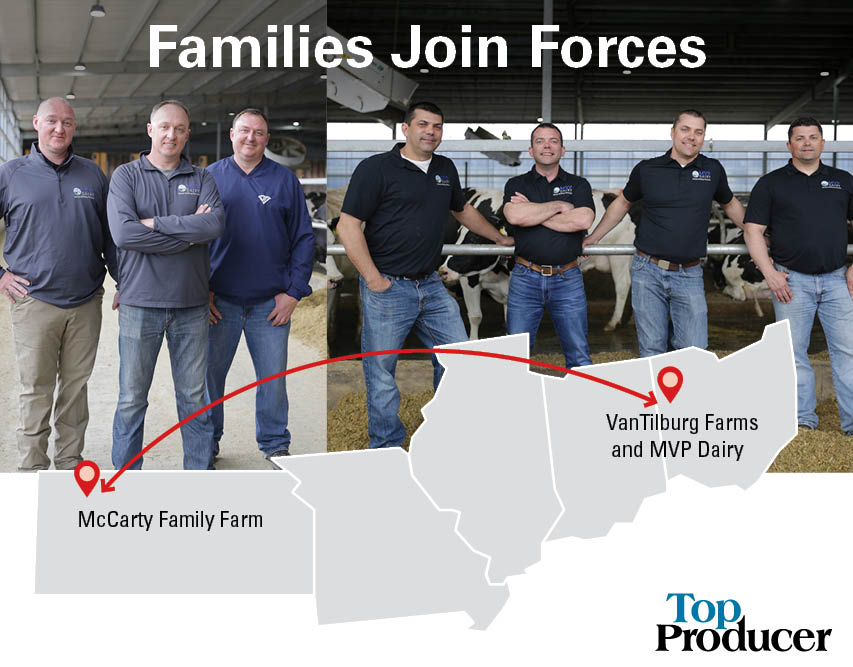 LEFT: VanTilburg Farms, based in Celina, Ohio, is led by (from left) Luke, Kyle and Matt VanTilburg. The operation includes 4,500 acres of row crops, trucking, ag retail, crop insurance and excavation.
RIGHT: McCarty Family Farms, based in Colby, Kan., is led by four brothers (from left) Clay, David, Ken and Mike McCarty. The operation includes four dairy sites in Kansas and Nebraska, which in total are home to 8,100 dairy cows.
MVP Dairy is a partnership, which formed in 2017, between the McCarty and VanTilburg families. The operation in Mercer County, Ohio, sells milk directly to Dannon and is under the oversight of general manager, Brock Peters.
Open to the Public
In the process of building MVP Dairy, the community raised a lot of questions and concerns. To engage the community and let others see fi rsthand what's happening on the farm, the team built the Dairy Learning Center. 
When the public and elementary school classes visit, they see the cows being milked. They also learn more about the partnership and farming practices through interactive displays, says Allison Ryan, director of mar-keting and communications at MVP Dairy. 
Visitors can experience virtual reality stations that give them access to the freestall barns and lets them try their hand at virtually milking cows. The experience concludes with an interactive grocery store display.
7 Traits of a Good Parntership
The McCarty and VanTilburg families credit their success at MVP Dairy to their solid partnership. If you're looking to expand your farm operation through partnerships, carefully select your partner, advises Elinor Robin, a mediator who specializes in workplace and family conflict management. Find people who fit these characteristics: 
You genuinely enjoy, like and trust. 
Shares your values. 
Has a complementary set of skills and traits. 
Gives and takes. 
Wants to grow and will support your growth.
Is willing to engage in proactive conflict management.
Can share your vision.
To learn more about MVP Dairy and their community outreach efforts, visit AgWeb.com/MVP-Dairy