Cindy Achen prepacks food the family will eat in the barn during Expo. "Everyone loves mom's chili," she says. ( Rick Mooney )
For some families, organizing a family reunion can be a stressful, maybe even painful, undertaking. Among the major challenges are picking a date or dates that fit into everybody's schedule and choosing a location everyone will like.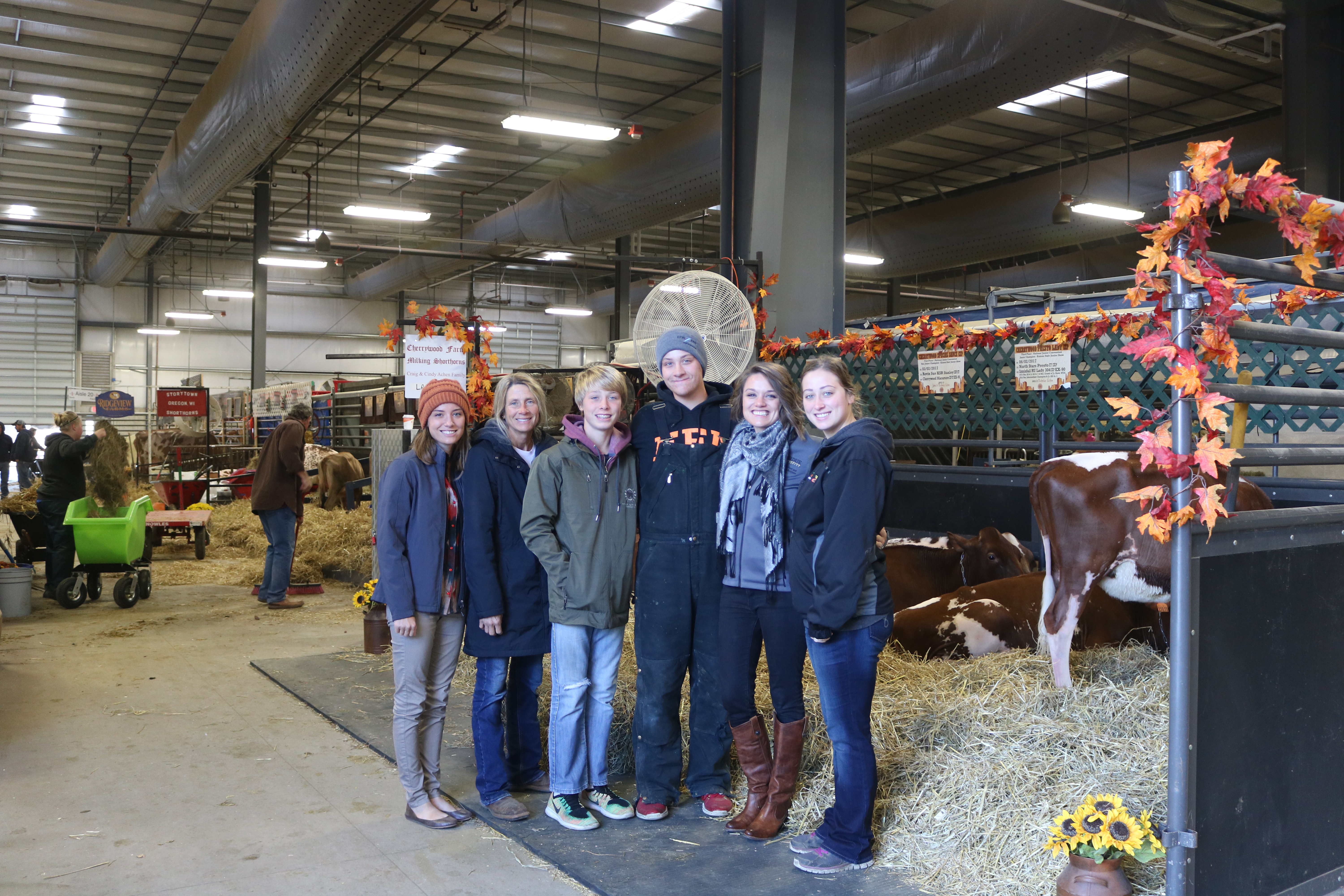 The Achen family – Craig and Cindy and their 11 children, ages 14 to 31 – has come up with a simple solution to bypassing those planning hassles. They make World Dairy Expo their reunion destination of choice.  
Current home base for the Achens is a 3,200-cow commercial dairy and 10,000-head heifer feedlot near the town of Lakin in southwestern Kansas. Three of the kids are still on the Kansas farm. Nineteen-year old John handles the feed program and other duties at the feedlot, while Jack, 16, and Joe, 14, are still in high school.  Four of the adult siblings – son, Jacob, and daughters Emily, Rachel and Annie (along with their spouses) – are involved with dairies the family owns in Minnesota, South Dakota and Indiana. Two of the kids are in college. Nicholas is at the University of Minnesota; Christy just finished up her studies at Utah State University. Rounding out the crew are Roxann, who works as a surgical technician in Brookings, S.D. and Jessica, the oldest, who lives in Australia with her husband, Brad, and their two children.
Distances and a variety of professional and personal obligations make it impossible for all family members to complete the trip to Madison every year. Last year, for example, Craig and John opted to stay home to oversee a major expansion project, while Jessica decided it was too soon to travel with a newborn infant. The year before, with Jacob's wedding scheduled for the week after Expo, the entire family missed the Show.
"It's not set in stone that we'll come every year," says Cindy, "But when it works out, this is absolutely a great place for getting together. We all love cows and the dairy business. And we all have memories of trips here in the past that connect us as a family."
Much of the family's activity at Expo centers around competing in the International Milking Shorthorn Show held on Tuesday and Wednesday of Expo week. Their Cherrywood Milking Shorthorn prefix is well-known and widely-respected in breed circles.
The three oldest kids --- Jessica, Emily and Jacob --- set the stage for the upcoming generation's participation in Expo breed shows while in college at the University of Minnesota during the mid- to late- 2000s. "They were all on the university's dairy cattle judging team," relates Cindy, "So they'd be here for that. But they'd also get together with their friends and load up a trailer with a bunch of cattle and their tack and head to the show. We called them the 'boxcar children.'"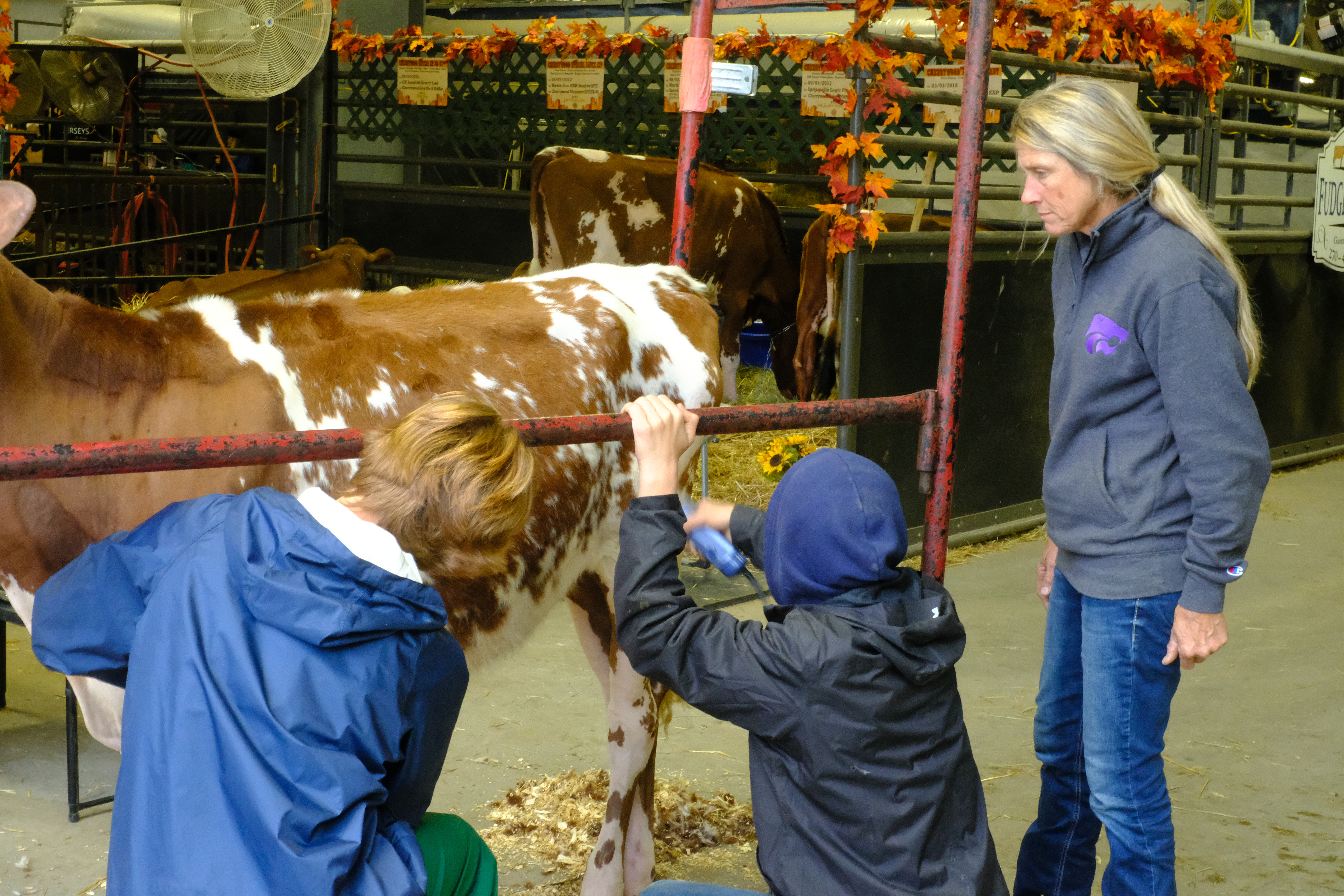 In the following years, many of the younger Achen siblings followed suit and showed Cherrywood animals on the colored shavings. Last year, 14-year old Joseph, the youngest of the brood, got his chance, showing in several classes. "It's always great to see the older kids working with the youngest ones when they're getting ready for the show, showing them the ropes and giving them tips," says Cindy.
Other structured activities at Expo have given the kids opportunities to learn more about dairying and forge new connections in the industry.  Last year, Jack, who is thinking about a career in sales for a feed or genetics company after high school, competed in WDE's Youth Fitting Contest. He earned second-place honors in the contest's Intermediate Male Division. To make up for missing a week of school, he received an assignment from one of his teachers to visit at least 15 exhibitor booths in the WDE Trade Show and turn in a report on what he learned. "There was a lot to see," he says. "I got a lot better idea of how big the dairy industry is."
Another example from last year, twenty-one-year old Christy, who recently graduated with a degree in agricultural communications and journalism, worked throughout Expo week as an intern with Hoard's Dairyman. She also attended the National Dairy Shrine banquet (held at Expo each year) where she was recognized as a recipient of an NDS educational scholarship. In previous years, Jessica, Emily and Jacob were also scholarship recipients.
As beneficial as such experiences are, the unstructured social activities during the week are the big draw of attending Expo for family members. Cindy looks forward to seeing friends that she and Craig have made in their 30 years of dairying together. "We show Milking Shorthorns, but we have friends who have Holsteins, Guernseys, Brown Swiss and other breeds," she says. "It's great to just walk through the barns and touch base with them."
The older kids also look forward to seeing friends they've made showing at Expo over the years. "It's awesome to have the chance to come back and see the people you interacted with when you were younger and find out what's happening with them," says Christy.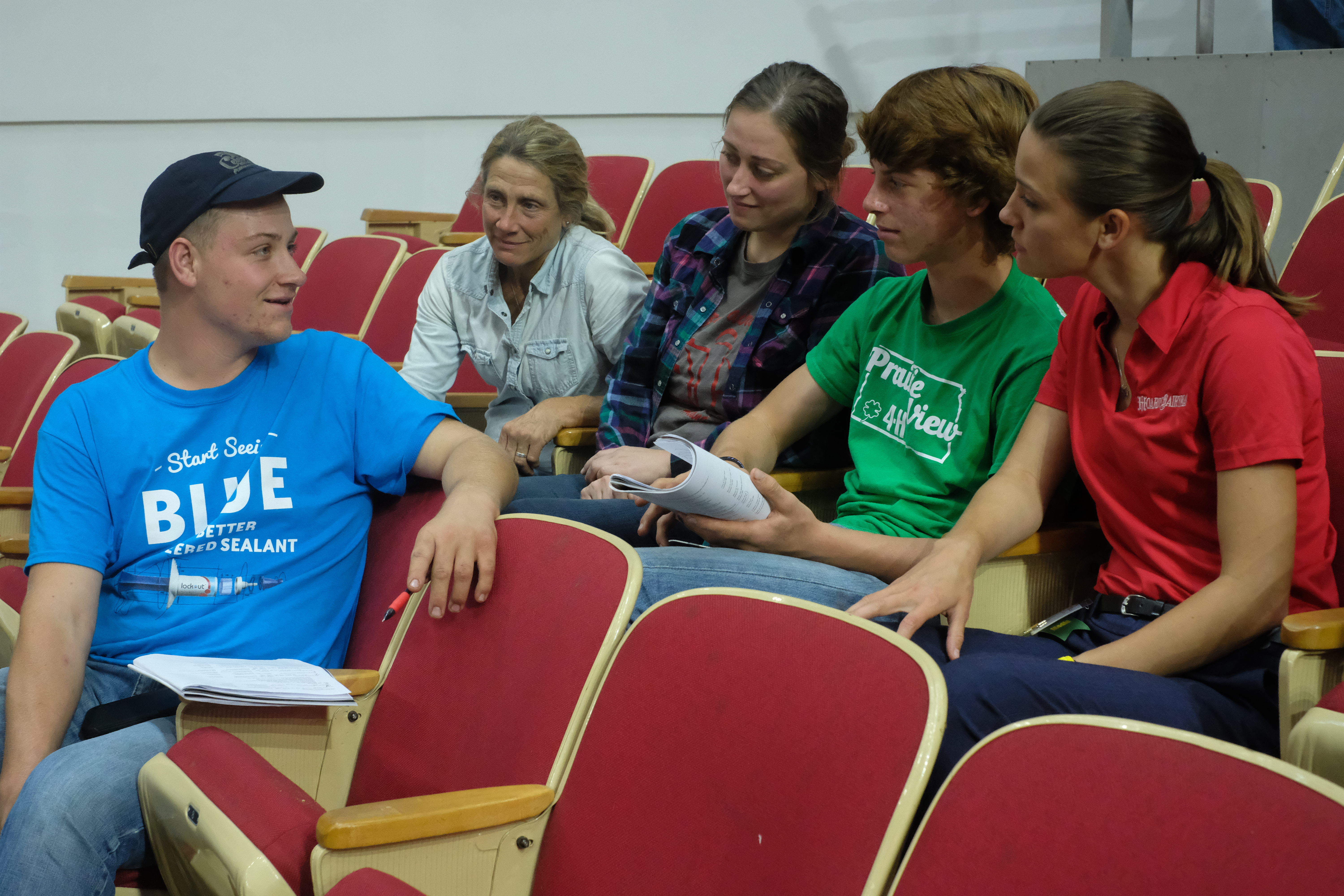 Above all, though, Expo is about getting together with family.  Activities range from helping with the show string (last year, the family brought one cow and four heifers to Expo), grouping up to attend other breed shows in the Coliseum, playing cards in the barn and getting together for meals. 
"We try to go out to a nice restaurant once during the week," Cindy says. "But I also pre-pack what we'll be eating in the barn while we're here. Everybody loves mom's chili."
"We're spread out all over now," adds Roxann, who works as a surgical room technician in Brookings, S.D. "We all try to get home for the major holidays like Christmas and Thanksgiving. But there, we're helping out with chores and a lot of the conversations revolve around what's going on with the dairy."
"At Expo, the atmosphere is different. We have more time to reminisce and catch up with each other about what's going on in our lives. And we all like it when mom and dad get together with their friends in the barn and tell stories about their younger days."
She finds it especially rewarding to spend time with her youngest siblings. "When I graduated from high school and headed off to college, they were still little kids," she says. "It's fun to come back now and see how they've changed physically and talk to them on more of an adult to adult level."