Grain processed from a storage facility at Soaring Eagle Dairy has helped boost fat test. ( Mike Opperman )
Dairy producers have seen the benefits of strong demand for higher-fat dairy products through better prices for butterfat in their milk checks. Even though milk prices are beginning to rebound, you can't afford to have a herd with a low fat test. You need to do what it takes to help cows produce as much high-fat milk as possible. That's why Soaring Eagle Dairy switched up their ration.
"Looking back, we had always struggled to get good fat tests," says Kelly Goehring, who manages the nutrition program at her family's 1,250-cow Soaring Eagle Dairy in eastern Wisconsin. "We used to look at the top dairies in the county and wonder how a dairy could get over a 4% fat test and 3% protein and still get all that milk."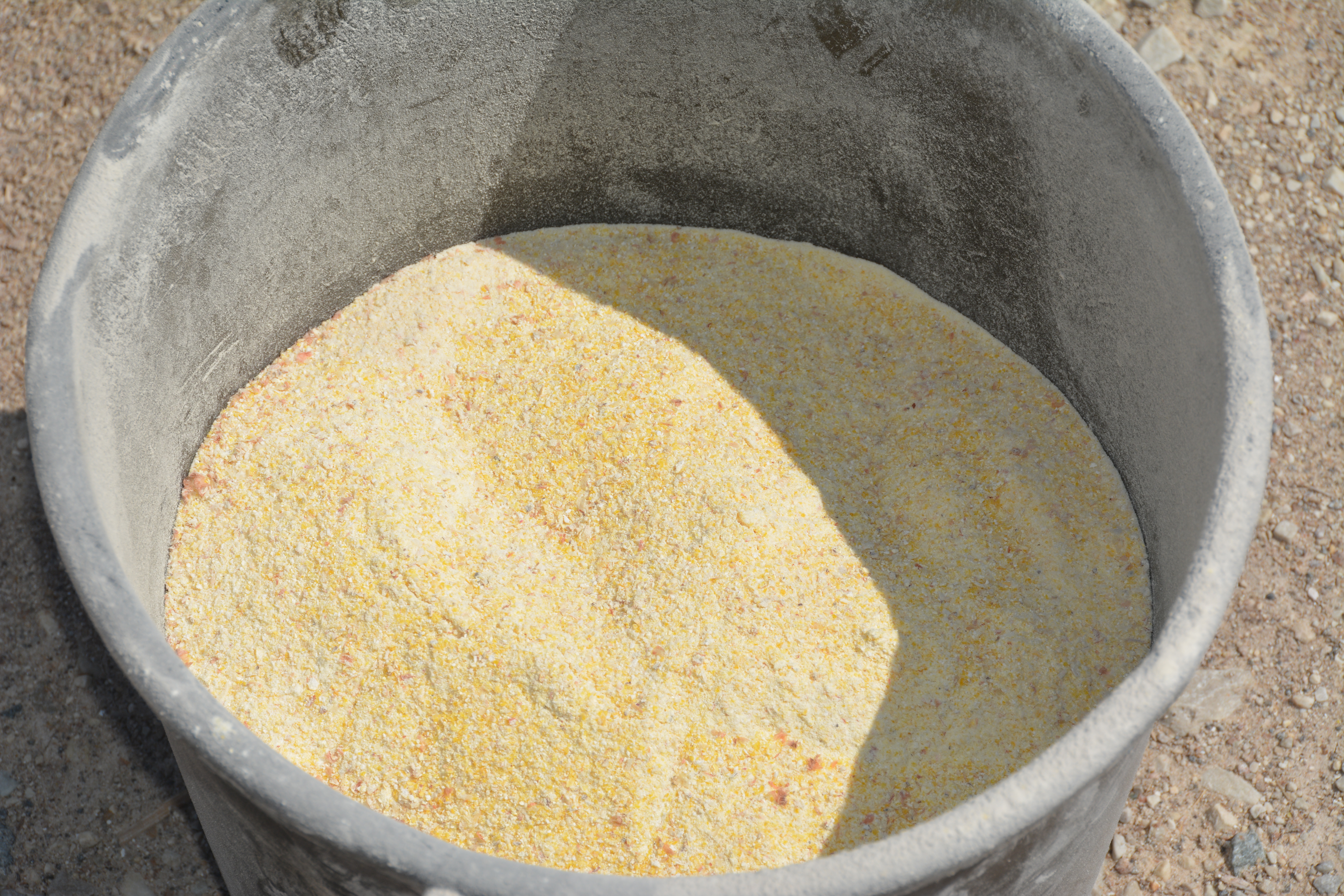 For cows to hit a fat test of 4% or higher, they first need to have the genetic ability to do so, which can be accomplished through genetics. But to meet that genetic potential, they need to have the right ingredients in the ration to support healthy rumen function. Making an ingredient change in the ration can have a significant impact on fat test.
When the herd was running a 3.5% fat and 2.8% protein tests, Goehring searched for solutions and decided to make a change. They were feeding a high amount of highly digestible ingredients, and decided to slow things down in the rumen by making a switch from high moisture shell corn to ground corn. 
"It was like a light switch going off," Goehring says. "Pretty shortly after we started feeding ground corn components started going up."  Today fat tests run about 4.1%, on average, and protein test is at about 3.1%. 
Results were strong enough that Goehring and her family decided to build their own grain processing facility on the dairy, and are in the second year of its use.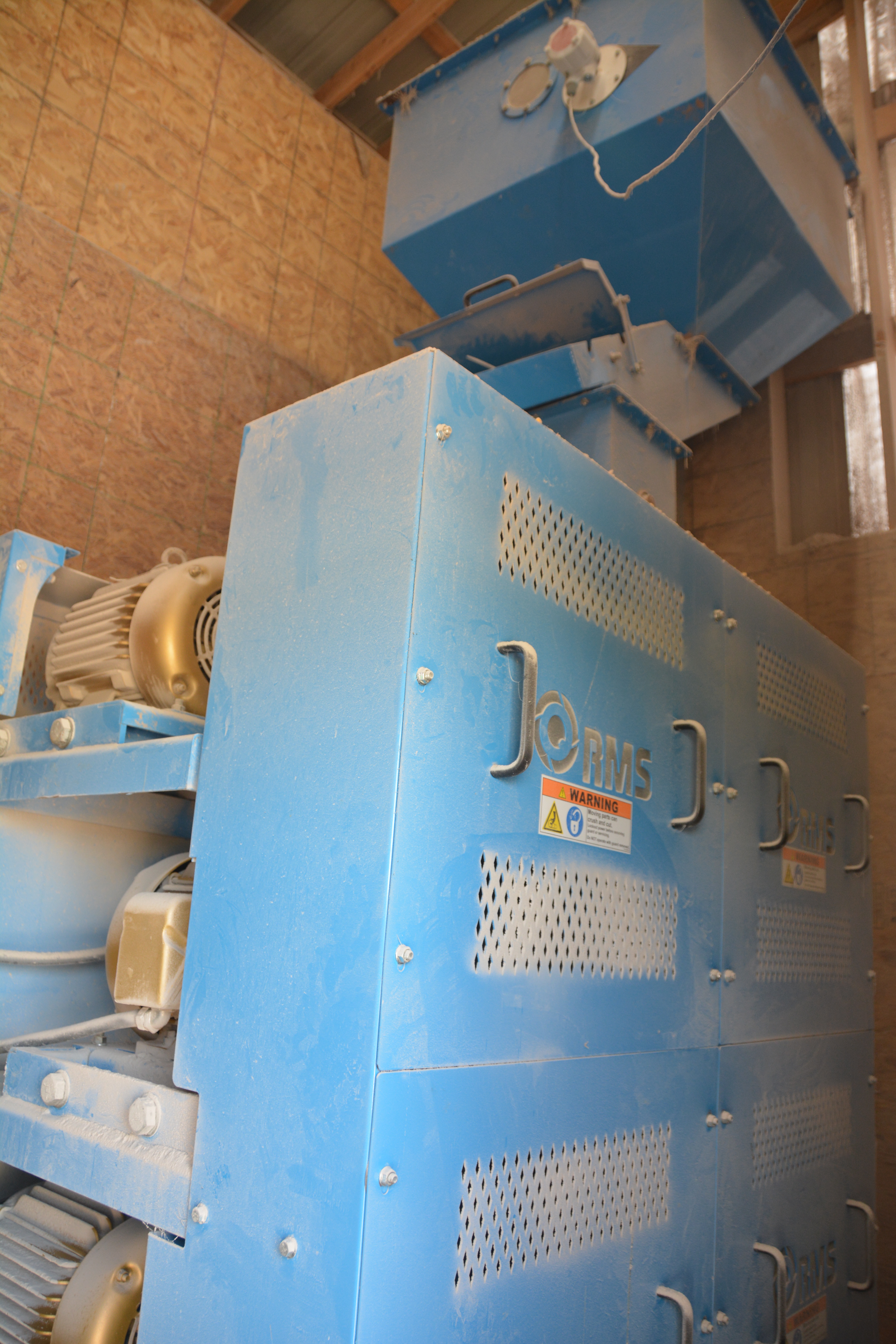 The facility holds about 100,000 bushel, says Nick Fitzgerald, Kelly's brother who is in charge of grain processing. Corn goes through a triple roller mill, similar to what feed mills use "but at a much smaller scale," Fitzgerald says. 
"We send in a sample every month to check for moisture and micron size of the ground feed," he says. "We're typically looking at a 450 to 475 micron level as our target. If it's not there we can adjust the gap between the rolls accordingly."
Corn goes directly from storage, through the rollers and gets augured into the feeding bins. It's not exposed to the elements, Fitzgerald says, so it doesn't get blown around which minimizes shrink. Grain gets stored in the feed bins for about three days. 
"We had the extra land to utilize to fill the storage, and the facility takes out the extra steps of shipping it to the coop and then having it delivered back," Fitzgerald says. 
About 2,000 acres are farmed in total for the dairy, and about 550 feed the processing facility. About half of that 550 acres is their own corn, and the other half is purchased from local growers. 
"We fill what we need for corn silage and put that away," Goehring says. "Then whatever is left goes into the grain facility and we try to buy locally from neighbors that are selling anyway to top it off."  
It took about three months to build the facility, and the dairy supplied most of the labor with a general contractor there to offer direction. The investment was around $400,000, Fitzgerald says, from the bins to the drying equipment and roller mill. With the higher fat test, and higher butterfat prices in the milk check, they hope to pay off that investment relatively soon.