[email protected]
The arctic blast that ushered in a new decade carried oil and natural gas prices higher, as well. Overall, prices in 2010 will exceed this past year's by a relatively modest margin, analysts say.
"The oil and heating oil markets are soaring as the U.S. is shivering under a big chill from coast to coast," says Phil Flynn, energy analyst at Phil Flynn Group.
In fact, during the second week of January, the February crude oil and gasoline contracts rallied to their highest prices in 15 months on the longest stretch of gains since 1996, reports
Barchart.com
.
The cold weather is global, with cold temperatures reported in Europe and China, Flynn notes. "In the short-term, polar bears have nothing to worry about as global warming takes a holiday!"
Stocks Shrink.
Lloyd's List, a newspaper serving the maritime industry, reports that the number of tankers storing oil at sea fell 5% in December. Distillate stocks have dramatically dropped, and the market is pricing in an even larger drop, Flynn adds. However, "distillate supplies are still 17% above the five-year average, but the cold combined with low refinery runs are raising fears that stocks will dwindle further."
Outside factors also are playing a role. Bullish aspects include a slump in the dollar index, which boosted commodity prices in general.
The Department of Energy's Energy Information Administration (EIA) predicts oil prices will ease slightly as warmer weather appears, then rise again because of summer driving demand. Given the improving economy (1.9% growth), oil could end the year about $6 a barrel above recent levels.
The same short-term weather fears are at play in the natural gas market, Flynn says, despite the fact that working gas in storage was 3,276 billion cubic feet (Bcf) at year end, 379 Bcf higher than a year earlier and 391 Bcf above the five-year average. For the year, EIA sees natural gas price averaging almost 3% below this past year.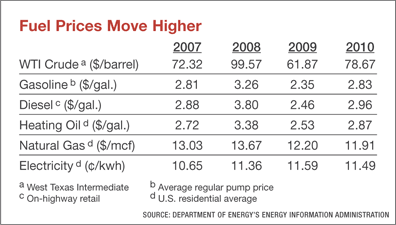 By the Numbers  I
  U.S. oil consumption will increase, but supplies are comfortable.
1.4%
increase in U.S. oil consumption projected for 2010
4 mil. barrels a day:
OPEC surplus crude oil production capacity
58 days:
Petroleum stocks in OECD countries (5 days above 5-year average)
8%
increase in U.S. oil production in 2009, the first increase since 1991
---

Top Producer, February 2010