[email protected]
As high-yielding, wet corn brought home in 2009, dump and drying capacity is the weak link in the harvest logistics chain for many producers and elevators. When the drying and handling system can't keep up, lines form and combines sit idle.
"It's key to have a dryer that can handle a day's worth of harvest overnight," says Rock Katschnig, who farms near Prophetstown, Ill. This year, his grain system was able to meet the challenge thanks to upgrades he had put in place earlier.
As operations grow and yields increase exponentially, even many of today's best-designed farm storage facilities can fall short of needed speed and capacity. "A lot of farms are not using a planning horizon of more than a few years," says Steve Johnson, Iowa State University economist. "They need to ask themselves, 'What's my vision for my farm in five, 10 and 20 years?'"  
Growing Need.
In Iowa alone, since 2000, harvested corn acres increased 11% and yields, 29%. Total corn production rose 41%. Yet  off-farm storage capacity rose 29% and on-farm increased by only 18%.
Yields are expected to continue to increase, especially for corn, because corn prices should be supported by ethanol mandates and comparatively low interest rates allow carrying corn in storage.
Farmers will continue to choose longer-season corn to increase yield, raising the drying and quality issues related to higher moisture, says Charles Hurburgh, Iowa State University professor in charge of the Iowa Grain Quality Initiative. "Farmers will dry more; gas is cheap compared with yield."
"We need more storage, whether it is community-based or on-farm," agrees Roger Fray, executive vice president of grain for West Central Co-op, serving 11 counties in Iowa.
Grain storage is a 20- or 30-year investment, Fray says. Given the yield trend, producers will grow a 14-billion national crop and then a 15-billion crop before today's building is depreciated.
Most grain comes into town in semis, 1,000 bu. at a time. "If elevators aren't putting in 20,000-bu.-per-hour grain legs, they won't be able to keep up with the semis," Fray says. "The size of the bin is irrelevant if the dump can't keep up."

Building Capacity.
Current farm storage loans offered by USDA are at 3.75% per year for up to 12 years. "Those with vision will improve not just their grain storage but also handling and drying capacity," Johnson notes. "Larger operations will develop a central grain-handling system. They'll look more like our elevator grain systems."
This will lead to corn dried and stored on farm being segregated more by quality and by its expected use—feed or ethanol.
Not only will farmers with ample storage have opportunities to cash in on futures spreads and basis improvement, they may become part of an insider group. Two pricing structures exist: public bids posted for all to see and private bids that only a limited number of farms see. These usually are larger-scale operations that can deliver quality corn on short notice.
Many growing operations are hesitant to invest in large grain-handling systems if the majority of their ground is leased, Johnson notes. In Iowa, only 42% of land is operated by owners (46% cash leased and 18% crop shared).
Condominium storage, using members' investment dollars, could solve that issue for farmers and help co-ops,  Johnson says: "We'll also see strategic alliances among ethanol plants, elevators and farmers."
Truck On.
The trend to more farmers owning semi trucks also will continue because it may be more difficult to find truckers, believes Ron Allen, who runs several semis in central Iowa. "A lot are getting out because of the expense. We're getting paid the same to haul as 15 years ago, yet the cost of insurance has gone up; tires have gone up."
Allen recently bought two new trailers. They each cost $15,000 more than the first one he bought in 1996, even though they are basically the same. He says government paper work also costs time and money.
Truck costs may rise for farmers as well, says Cole Gustafson, North Dakota State University Extension economist. "In the past, ag bought used, cast-off semi trucks," Gustafson says. "That won't be the case as farm truckers have to become more compliant with environmental laws."
New tractors and semi-trucks need Tier 4 engines to reduce particulate matter and nitrogen oxide emissions by 90%, he says.
Look at ROI.
As with all investments, producers should look at how trucks and bins fit their business tactically and strategically. "If a farmer has to store on farm because his elevator can't keep up with harvest, shame on the elevator," Fray says. "If he builds on farm to hedge and manage basis, good for the farmer."
"As a farmer, you have to ask what investment will leverage your core competencies," Fray says. "Should you rent more acreage and buy bigger machines or build a grain bin? They are different business activities and require different skill sets."
---
The Rising Tide
Think your neighbor's two 40,000-bu. bins are a big event? In Boone County, Iowa, alone, 15 farms in every one of the 16 townships would need to build a 40,000-bu. bin just to handle the increase in the corn crop from 2001 to the high so far, in 2007, says Roger Fray of West Central Co-op.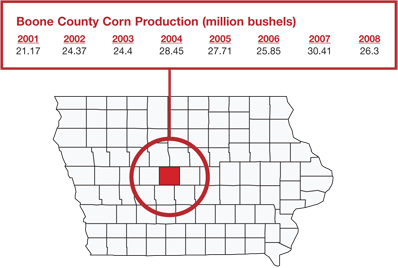 ---

Top Producer, February 2010