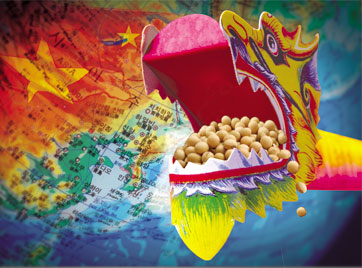 When a Wal-Mart Supercenter moved into the remote Chinese city of Loudi, it sent a signal to the world ag economy: China's food demand is not only growing, it's shifting.
Supermarket chains moving from wealthy Beijing and Shanghai to second-tier cities in China's interior means middle class incomes are on the rise. The country's unstoppable economy has armed households with greater spending power and created demand for higher-priced dairy products, poultry, fish and processed foods.
"The rapidly shifting nature of China's food economy simply defies desc," explains Scott Rozelle, Stanford University ag economist and longtime expert on China. "It is complicated, diverse and changing fast. China has moved from a socialist country that once banned markets to the largest market in the world."
China's eye-popping gross domestic product (GDP) growth is helping drive food demand through the roof, Rozelle says. Even on the heels of worldwide economic crisis, China's GDP growth was 8.9% in the third quarter of 2009,
according to the World Bank. By contrast, U.S. GDP was up 2.8% in the same time frame.
As the incomes of China's more than 1.3 billion people rise, food demand beyond traditional staples of rice and wheat will jump 50% during the next seven years, according to Rozelle's analysis. "This is a food demand pressure the world has never seen before," he adds.
Can China feed itself? For more than a decade, economists have been probing the issue of who will feed China. Lester Brown, an economist with the Worldwatch Institute, wrote in his 1995 book "Who Will Feed China?" that "when China starts importing, there may not be enough grain in the world to meet that need."
With 20% of the world's population and less than 10% of the cropland, China has been surprisingly successful at feeding itself without relying heavily on imports, according to Fred Gale, senior economist with USDA's Eco-nomic Research Service.
On the domestic front, China has an agricultural economy supported by 200 million farms that are the average size of a football field, Rozelle says. "There remains a lot of subsistence farming in China," he adds. However, there are also increasingly specialized farm operations, such as pork production, milk and aquaculture.
China's agricultural productivity has been rising by about the same rate as in the U.S., Rozelle says. He credits rapid adoption of technology. Chinese farmers put in new varieties every year, for example, and quickly adopt high-tech production techniques.
As a result, Chinese corn yields are continually increasing. "China is putting all of its eggs into the biotech basket," Rozelle says.
China's Minister of Agriculture, Sun Zhengcai, has announced plans to enhance agricultural modernization with an increased investment in ag research and development. In 2007, China spent $500 million on agricultural research and development; by comparison, the U.S. government spent $400 million.
"The threat of starvation remains a huge issue in China, so the government sees food security as a state issue and is investing in it," adds Ross Korves of the ProExporter Network.
The Chinese are instituting greater openness and efficiency in distribution of agricultural products. However, most Chinese still sell products through brokers and navigate a maze of back roads that make China an inefficient place to move food and feed, Rozelle says. "There is no insurance, no regulation and 20 million people who claim their job is to trade agricultural products," he explains.
Trade is tricky.
China shifted from a protectionist country in the 1980s to the fourth largest trading country in the world, and agricultural trade has doubled during the past 20 years.
China's growing demand has been a major factor in the boost in U.S. soybean and oil markets. Ten years ago, China's annual soybean imports accounted for less than 8% of world soybean imports. In 2008, China's soybean imports comprised half of the world's total.
Yet gauging China's enthusiasm for U.S. agricultural products has always been tricky, and it remains so. The country has yet to fully open its doors to U.S. grains. Trade tariffs and China's policies on grain prices at the farmer level, along with the desire to build its own inventory stocks, will likely keep the country out of the corn export market in the near term, says Cary Sifferath, senior director in China for the U.S. Grains Council (USGC).
DDGS open doors. Ironically, U.S. exports of distillers' dried grains with solubles (DDGS) to China hit record levels in 2009, according to USGC. Higher Chinese corn prices due to drought in parts of the country have made DDGS competitive and popular with the feed and livestock industry, Sifferath says.
Total DDGS exports to China for 2009 surpassed 300,000 metric tons (MT), Sifferath says. By comparison, approximately 8,000 MT of U.S. distillers' grains were imported to China in 2008.
Sifferath credits U.S. efforts—sponsoring DDGS workshops in China and bringing teams to the U.S. to showcase the high quality of grains—for building a market in China.
"We still have some constraints to overcome before the Chinese DDGS market will flourish. Feed registration is the largest constraint on importing U.S. DDGS into China," he says.
Modern farms bring hope. While there is great expectation for U.S. exports into the growing Chinese markets, the reality is U.S. exports to China are dominated by a few products, Korves says. China imported $12.1 billion of agricultural products from the U.S. in 2008, with soybeans at $7.3 billion and cotton at $1.16 billion. The next largest imports were hides and skins, followed by poultry meat.
"They have not begun to tap the wider U.S. agricultural market," Korves explains. "If their investment in agricultural research can be translated into more output at the farm level, they will continue to supply
domestically at least part of their growing food demand."
Still, economists see hope for U.S. grain trade with growth in swine and dairy production facilities and industrialization of Chinese livestock.
"There are huge gains to be made in trade with China," Rozelle says. "The ag economy of the U.S. and food economy of China are a perfect match.
"We need to continue to advocate for free trade," he adds. "China should be willing to open up its grain markets if we will open up our fruit and vegetable markets." 
---
You can e-mail Jeanne Bernick at
[email protected]
   
Fast Facts
-China's Market Potential
-China is the fourth largest economy in the world, after the U.S., Japan and Germany.
-Projected 2009 Gross Domestic Product growth for China is 7.2%, according to the World Bank.
-China imports more than half of the world's soybeans.
-U.S. exports of dried distillers grains with solubles have more than doubled in 2009