There are more than 800 strains of mycotoxins. A handful of these strains can be deadly to livestock--test grain to be safe. ( Maureen Hanson )
If you're considering selling some of your wet grain to livestock owners, it's important you determine who will test for mycotoxins. The season's weather and conditions could mean mycotoxins spring up.
"We haven't heard a lot about toxins yet, but I think there's going to be some after looking at fields," says Ted Koehler, Syngenta Enogen ruminant nutritionist. "I've seen quality issues everywhere from southern Iowa to northern Wisconsin where there is noticeable mold on ears."
Because molds and mycotoxins could start rearing their ugly heads, it's time to start sampling for them in grain that will become feed. Grain sellers should work with livestock owners to determine who will take the sample, where it will be sent and how the cost should be covered. You might be used to the elevator sampling for you, but in direct sales to livestock producers you'll have to be conscious of mycotoxins yourself.
Here's what you need to know about sampling for dangerous levels of mycotoxins in grain, according to research from Iowa State University:
Mycotoxins aren't evenly distributed in grain, so you'll need to pull a variety of samples to get an accurate view.
Just because you're sampling grain with visible molds doesn't mean it's a sample that will contain mycotoxins. Grain without visible mold can have the fungi.
Send dry samples to the lab instead of wet as the mold can keep growing. You can dry a standard 1-pound sample in the oven to 13% moisture before sending.
Gather your sample and send it to reputable laboratory. Be sure to ship samples in coolers on ice to preserve the grain.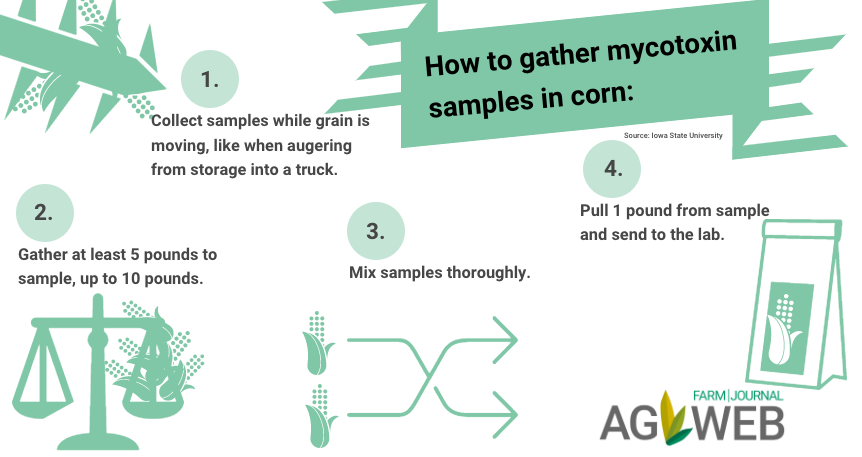 No matter what, understand what is acceptable for the end user—it varies by animal. "Feedlot animals can tolerate some mycotoxins more than dairy," Koehler adds.
Here's a quick look at Purdue University's guide on what is acceptable in feed for the three dangerous strains of mycotoxins—note there are more than 800 kinds.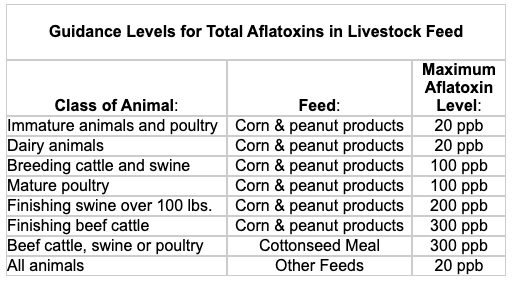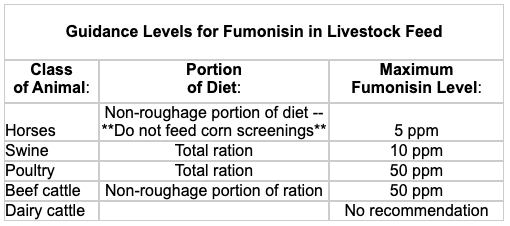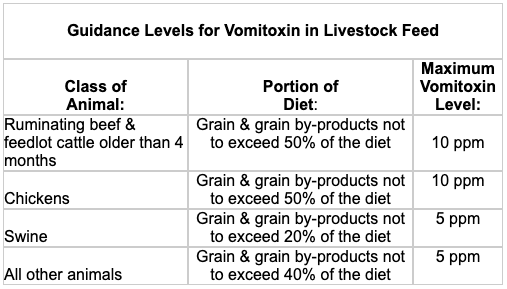 Learn more about wet grain management and how livestock and grain producers can partner for a win-win here:
Wet Grain Problem? Solution: Sell It to Livestock Owners For A Win-Win
Tools to Help with High Moisture Harvest
Could Grain Bags Be Your Wet Grain Storage Solution?
Need-To-Knows Of Moisture, Quality Deductions And Long Elevator Lines