July 9th Farm Country Update
50% of those surveyed say social distancing of at least 6 feet will be required in order to allow input suppliers back on their operation. ( AgWeb )
For dairy farmers like Dwayne Faber, the impacts of COVID-19 happened fast.   
"Out the gate was a pretty precipitous fall," says the Burlington, Wash., dairy farmer. "We had some $18 milk on the board, and then that fell all the way down to $12. "
As prices fell, and the pandemic created chaos in the supply chain, he says the government quickly stepped in to help. 
"We've seen that market rebound completely; however, it's kind of caused a disparity between the different classes of milk, so Class III is super strong, but then butter and powder is struggling."
Beyond prices, COVID-19 is also changing the way Faber conducts business.
"The big part for us is just making sure that we keep our employees safe," he says. "We're providing masks for all our employees. We're going out providing hand sanitizer for our employees."
He says continuing to educate employees is a constant effort, while keeping safety the top priority.
"We haven't had any employees that have tested positive for it," Faber says. "We've had two instances where workers had family members that have tested positive with COVID. They've had to stay home. But it certainly caused some anxiety for the workers that are currently working when they do come back."
That angst showed up in a recent Farm Journal COVID-19 Reintegration Survey.
Of 640 farmers and livestock producers surveyed, 45% say they have reservations about allowing sales reps back onto their farm.
For Dick Wittman, a family business consultant and farmer in rural Idaho, that number is surprising.
"It does surprise me, because I would say that this area wouldn't have that sentiment," he says. "I mean, there's always some of that sentiment, but I think the attitude in farming is that we're already socially distanced, and the normal suppliers that supply us don't interact with anybody else. I think that's a little bit of a fallacy."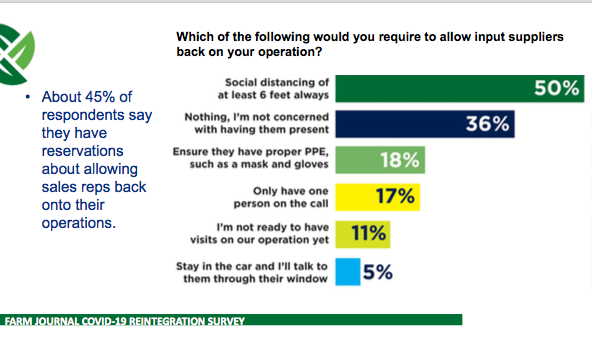 The Farm Journal survey also found in order for input suppliers to be allowed back on the farm, 50% say social distancing would be required, and 18% want outside vendors to wear proper PPE. However, not everyone is voicing that concern about sales reps and non-employees coming on their farm. The survey found 36% say they're not concerned about having sales reps present.
Growing concerns or not, Wittman thinks navigating new business practices today may be permanent solution in agriculture.
"I think it's going to change your business models," says Wittman. "It's making people rethink how we can do business in the future. We don't need to have everybody interacting every day in an office."
How else is COVID-19 impacting agricultural businesses and rural America? That was the topic of the latest Farm Journal Farm Country Update. Watch the complete discussion in the video below.