The team from the University of Guelph - Ridgetown ( Rick Mooney )
Whether it's at the intercollegiate, post-secondary or 4-H level, competing in one of the youth dairy cattle judging events held in conjunction with World Dairy Expo gives young people looking to develop careers in the dairy industry a chance to pit their skills and knowledge against top-flight peers from throughout the U.S., Canada and around the globe. As an added benefit, the kids get the chance to sample what WDE has to offer.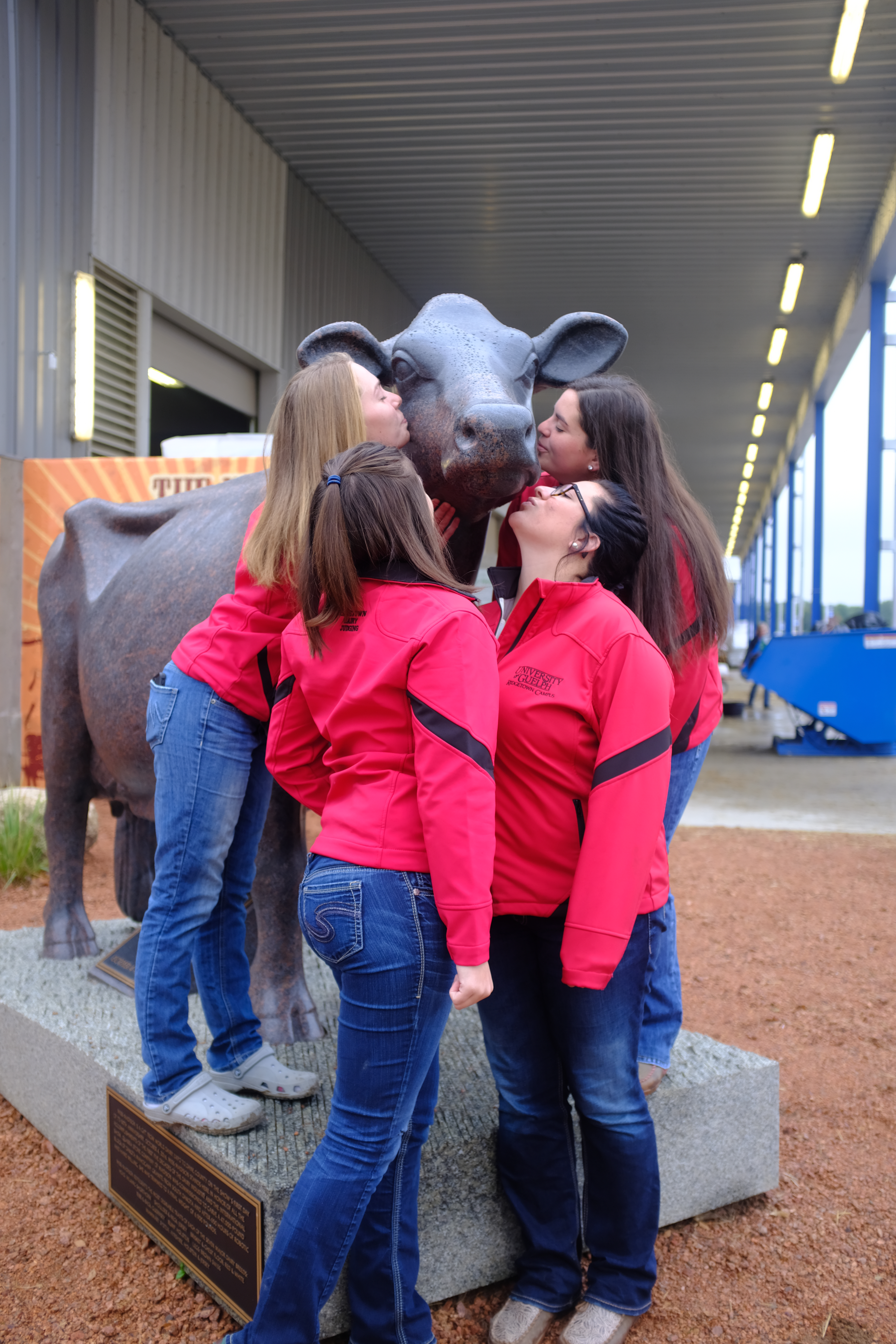 The two teams (four members each) representing the University of Guelph – Ridgetown Campus in Ridgetown, Ontario in the International Post-Secondary Dairy Cattle Judging Contest made the most of their Expo experience in 2018.
Accompanied by coach Gail Carpenter, an assistant professor of dairy nutrition management, and assistant coach Amber Sayers, manager of day-to-day activities at the campus dairy barn, the teams left Ridgetown at 4:00 a.m. on Friday morning, the week before Expo. Total drive time to Madison is around eight hours, but stops at two high-profile dairies in northern Illinois – Golden Oaks Farms and Luck-E Holsteins – for practice judging sessions added several hours to the journey. 
For team member Sam Johnston, the stops were a major highlight of the trip. "I had heard about both of these places and dreamed about being able to visit them and seeing their high-type animals and show cows," says Johnston, who was raised on a 57-cow dairy farm in southwestern Ontario.  Like all of the other team members on the trip, Johnston is enrolled in Ridgetown's two-year agriculture diploma program. "You can see lots of pictures of great animals on Facebook and other places, but that's nothing compared to seeing them in person. It was awesome."
The day's activities weren't finished when the team arrived in Madison late Friday afternoon. Following a practice session of oral reasons at the hotel, the teams went out to dinner at a local restaurant. "We ended up at Cracker Barrel on Friday night and Olive Garden on Saturday night," chuckles Coach Carpenter. "Eating at American restaurants that we don't have back home was a really big deal." 
On Saturday and Sunday, the two Ridgetown squads joined teams from other schools for tours of four dairies in southeastern Wisconsin. At each stop, teams were able to participate in practice judging sessions and learn about the management of each operation. Visits to the Hoard's Dairyman Farm, the National Dairy Shrine and Nasco in Ft. Atkinson, Wisconsin rounded out the weekend activities.
Monday was competition day. Team members spent the morning in the Showring judging cow and heifer classes and submitting their placings. In the afternoon, they met individually with contest judges to give oral reasons, justifying their placements.
Sam Johnston described the competition as "intense", but felt like he and his teammates had been well-prepared by their coaches. "One of the reasons to be on a judging team is that you get more confidence talking in front of people that you don't know," says Johnston, who plans to pursue a career in dairy genetics. "I've never really had a problem with that, but I've definitely gotten better at it by being on the judging team. It's something that will help me my entire life."
At the award banquet on Monday night, the two Ridgetown teams learned they had placed eighth and ninth (out of the sixteen teams competing) overall in the Post-Secondary contest. Team member Emily Unger was satisfied with the results. "You'd always like to do better, of course," says Unger, who hopes to work in some aspect of the dairy industry after finishing her studies at Ridgetown. "But I really felt everybody on our teams did their best. There was a lot of pressure during the day, and I was nervous. But when it was over, I felt like I had learned a lot. And I had a lot of fun."
Emily's response brought a smile and an approving nod from her coach. "I'm very competitive, and I want us to win," says Carpenter, who competed in the National Intercollegiate Dairy Cattle Judging Contest at Expo as a member of the Michigan State University team in 2007.  "But it's like we're always telling the kids: You're really competing against yourself. What counts is whether you feel like you've improved as a person and put your best effort forward. If you can tell people that you competed at World Dairy Expo and that you did your best, you're a winner. "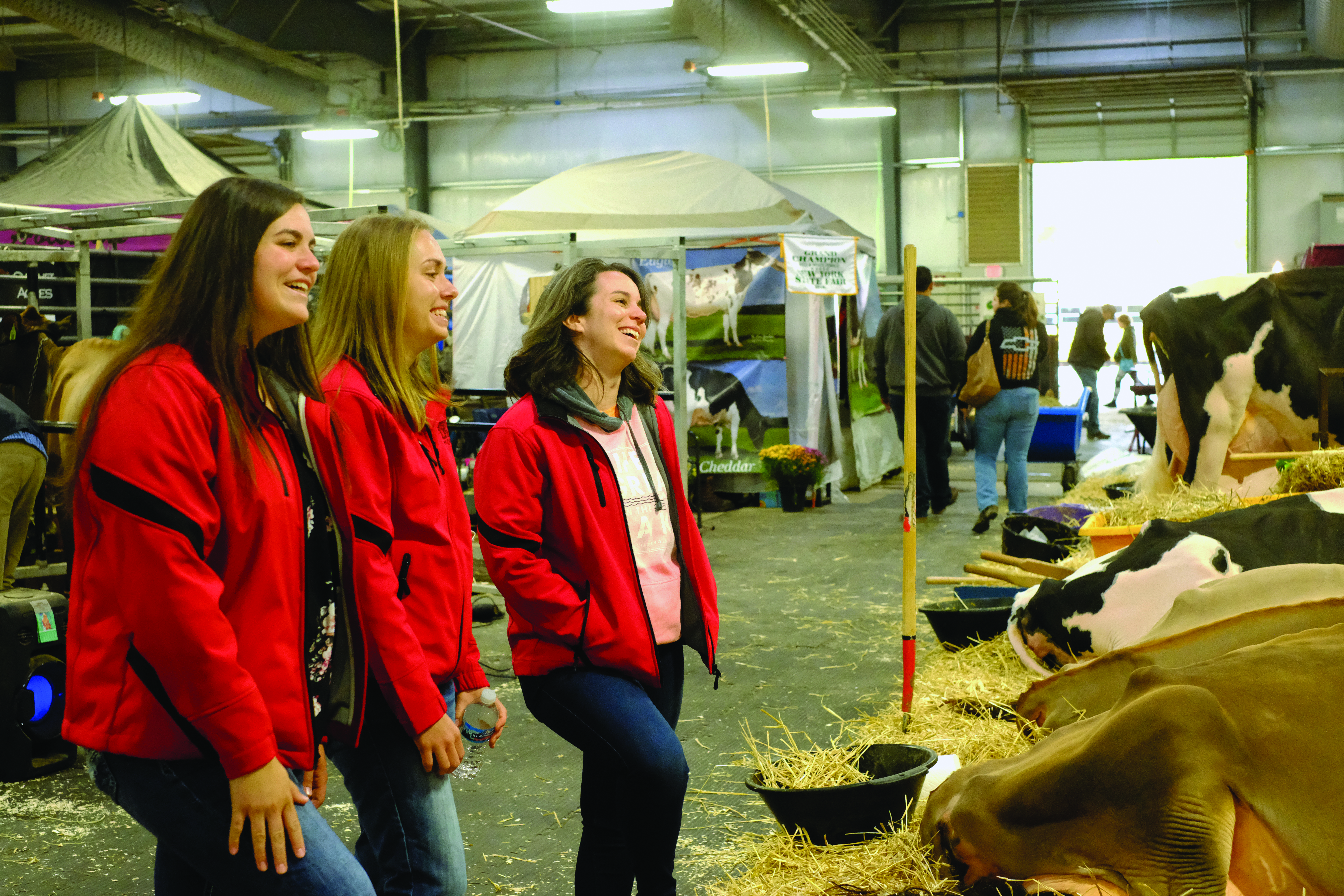 With the pressure of the competition behind them, the Ridgetown team members were free to explore Expo on Tuesday. Shopping at the Purple Cow Gift Shop, having their pictures taken in front of Expo icons like Miss Madison and the giant globe and grabbing a grilled cheese sandwich and milkshake at the UW-Madison Cheese Stand were on the agenda for many team members.
Most of the students also used part of the day to visit exhibits in the expansive World Dairy Expo Trade Show. "It's exciting to see all of the latest technology and think about how you might be able to put it to use on your own dairy someday," says team member Aimee Van Loon, who plans to return to her family's 130-cow dairy in Finch, Ontario after graduation. "It's such a big show with so many companies. It was incredible." 
"You get a good idea of what's going on throughout the dairy industry," adds teammate Emily Unger. "And you meet so many people and have an opportunity to network. You never know what doors are going to open up for you."
By far, though, the real "must do" activities for team members were touring the cattle strings in the New Holland Pavilions and attending breed shows in the Coliseum. "We got to see a lot of cows from breeds that we don't see much of in Canada," says Unger. "There, it's mostly Holsteins and Jerseys. At Expo, we also got to see Brown Swiss, Ayrshires, Guernseys and Milking Shorthorns. The quality of the cattle here was unbelievable, just awesome."
The teams left Expo late Tuesday afternoon for the long drive back to Ridgetown. Coach Carpenter used the trip to "tune in" to students' conversations in the van.  "They were excited," she says. "They talked about the competition and how well they worked as a team. They felt good about it. They also talked about the people they met, the stuff they got, the cows they saw and how much fun they had. Overall, I'd say it was a pretty successful outing."