( Sponsored Content )
The corn silage hybrid you choose dictates your management style and the options available to you, according to Joe Lauer, Ph.D. and agronomy professor at the University of Wisconsin.
The right hybrid is a balance between two key factors:
1. Silage Yield — Consider foliage yield and grain yield; high-grain yield offers the flexibility to sell corn for grain as well as harvesting for silage.
2. Quality — Some hybrids, like BMR, are designed to offer quality corn silage. However, gains in quality are often sacrificed in grain yield.
"Bottom line, there's a lot of variation, so check out local plots or test hybrid performance in
your own fields," says Lauer.   
Plant Population
Corn for grain: 34,000 plants per acre
Corn for silage: 38,000 plants per acre
"Growers are planting corn for silage about 3,000 to 4,000 plants per acre higher plant density to achieve a higher yield," says Lauer. "You're giving up 2-4% in overall quality per ton, but it's possible to gain 5-10% yield."
Soil Type and Health
Plan your hybrid around soil type and health, and know the levels of your macronutrients, especially nitrogen.   
Corn for grain: Potassium and phosphorus are often left in the field in remaining corn stover.
Corn for silage: Harvest removes significant nitrogen, potassium and phosphorus from the field, so more nutrients may need to be replaced. 
Contract Silage Growers
Some dairies contract with grain producers to grow corn silage.
• There is no boiler plate contract; it's highly variable between the dairy producer and the corn silage grower.
• Both parties should be conscious of the contract specifics as it can influence each party's management decisions, such as hybrid choice, manure handling and quality adjustments.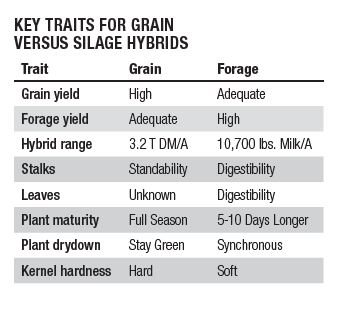 Sponsored by DEKALB