[email protected]


Grain price volatility in recent years has been about double its historical level. For example, the annual range in December corn futures price was $1 per bushel since 1970 but $1.87 per bushel since 2004. It's true that pulling the trigger on sales may make you feel as if you're playing Russian roulette and the gun is pointed at your head, but even now, price ranges can raise your confidence level.
Bill Fordham of C&S Grain Market Consulting studied December corn futures contracts from the first trading day in December before planting through the end of November in the year they expire. He found that the market's high price ranged up to $3.67 above the opening price, averaging 59¢ above since 1970 and $1.30 above since 2004.
"A $1.30 rally from the December open of $4.48 means that December corn has the potential to reach $5.77 by the end of November," Fordham says.
Lows from December through November have ranged from ½¢ to $1.26 below the December open, averaging 41.75¢ below since 1970 and 56¢ below since 2004. A 56¢ decline would be $3.92.
"It is reasonable to believe that sometime before the end of November, December corn futures could make a high in the $5.40 to $5.75 area and a low in the $3.40 to $3.90 area," Fordham concludes. "Yes, that's a wide range. But you can use it for guidance."
Suppose you want to price in the top third of the price range. That would be when the high is 86¢ above the opening price of $4.48, or $5.33, and that would be an area to make sales—maybe a lot of sales, Fordham says. On the other hand, you might want to hold off sales in the lower third of the range, from $4.10 and below.
Similar analysis of the November soybean contract results in a possible price range of highs between $11.50 and $12.38 and lows between $7.75 and $8.84, Fordham reports.
If you think the outlook for the current year is more bearish than bullish, given comfortable stocks, maybe you should shift your pricing target and range down.
Implied Volatility.
Options premiums provide a window into how much the market thinks prices may change between today and expiration. The price you pay for an option is based on the contract's intrinsic value (strike price above or below the current futures price) and its time value, explains Jim Kendrick, retired University of Nebraska Extension grain marketing specialist. It is the time value portion that provides a window into the expected volatility. "If traders expect wild price movement, their risk is higher and they therefore want a higher payment for taking that risk," Kendrick says.
"Volatility is usually high going into USDA's January reports and corn was above 40% not too long ago," says Justin Kelly, president of EHedger. "With the report behind us and the market reassured about supplies, there has been a huge break in volatility. March corn is 32%, December corn 34% and July and November beans 27%. Wheat was a bit higher—about 36%, Kelly says. "No one is willing to sell the premium because the funds hold so much wheat," he adds.
Computer programs are designed so that when given the futures price, strike price, put and call options premiums, days to expiration and interest rate, they will calculate the implied volatility. So you might take the current futures price—say, the March contract at $3.93—and 32% implied volatility to mean the market believes prices will range from $2.67 to $5.19.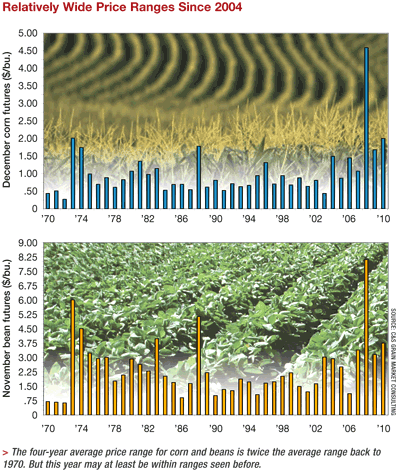 ---
Top Producer, February 2010