The World Dairy Expo Trade Show has much to offer dairy producers looking for new tools to help them remain profitable. ( Rick Mooney )
Dairy producers are increasingly turning to apps on their mobile devices to step up their management game. Here's a look at some of the new apps being offered by exhibitors in the World Dairy Expo Trade Show. 
My Dairy Dashboard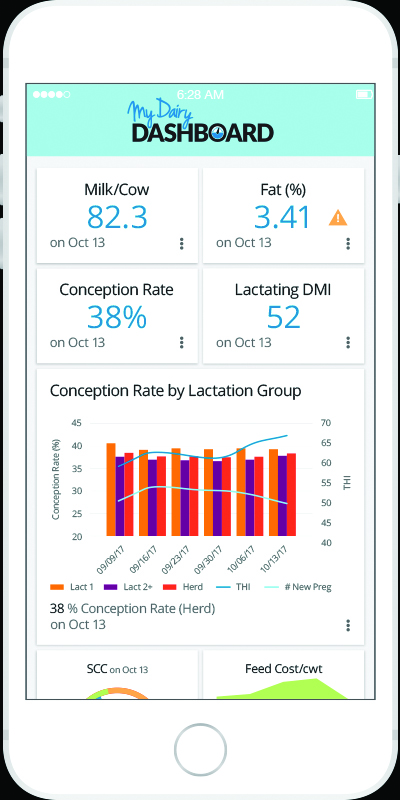 Introduced at World Dairy Expo in 2017, My Dairy Dashboard aims to give dairy producers and their advisors quick access to production, financial and other data from a variety of sources all in one place on their mobile devices. 
"Dairy cows may be the most monitored animals on the planet," says CEO Mitch Norby, noting that the company is a joint venture of Virtus Nutrition and Dairy.com. "But even though producers have a lot of data available, it's collected on a lot of different systems. It takes a lot of work to pull all of that data together and make meaningful correlations."
"What we've done is streamline the collection of that data across the different sources and put it in a clean visual representation. As a result, producers and consultants can make management decisions more quickly and efficiently."
The My Dairy Dashboard "Essentials" module is designed around 20 key performance indicators (KPIs) related to different management areas on the dairy—milk production, milk quality, feed management, financial records, health and reproduction, weather and more. "We tried to make the module broad enough so that it gives producers a multiple dimension look at their operation," says Norby. 
For the module, producers pay a base subscription fee of $150/month . With permission, nutritionists, veterinarians and other members of a dairy's advisory team can access the data on a daily basis. Through a partnership arrangement, producers who are members of Dairy Farmers of America (DFA) can access a version of the dashboard that includes DFA and weather data in their myDFA portal at no charge .
For now, the company is focusing on adding more data sources (including management software or links to activity trackers, parlor equipment and robotics) to the platform. The company is also developing benchmarking features that will allow producers to compare their management against a peer group or their own prior performance. 
For more information, click here.
Dairy Applications BV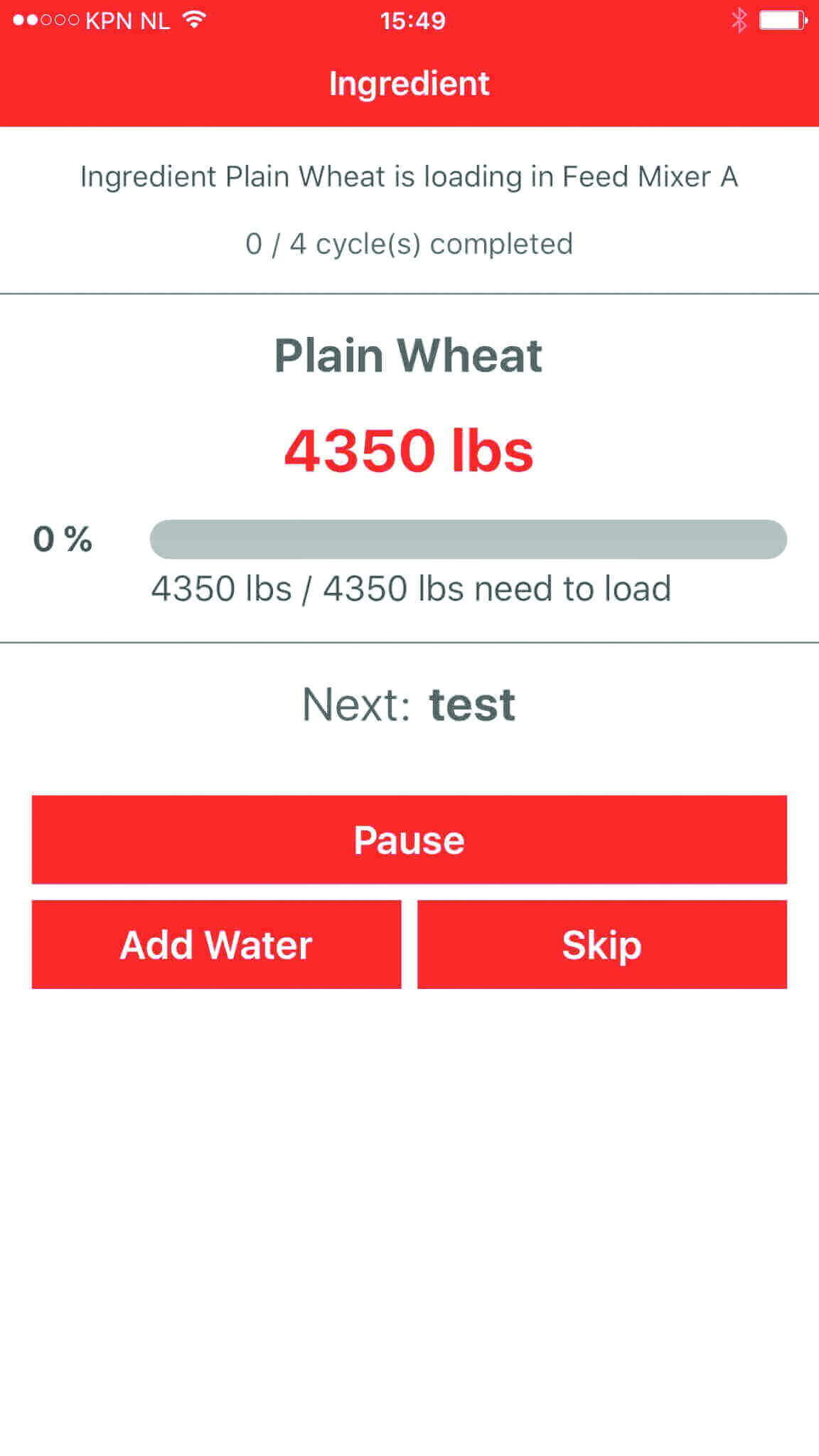 Helping dairy producers boost efficiency in their total mixed ration feeding programs is the idea behind a new mobile app from Netherlands-based Dairy Applications BV. 
"It's like a high-tech feed sheet for the farmer," says Dairy Applications BV owner and app developer Edwin Van Ens. "The focus is on optimizing ration management, improving feed efficiency, tracking dry matter intake of the cow and controlling and analyzing a dairy's feed data." 
Using the app is relatively straightforward. To get started, users enter ration information for each barn or cow group on a secure personal webpage set up by Dairy Applications BV on any desktop or laptop computer. That info gets relayed to an app which communicates with a junction box on the weigh bars of the mixer wagon. With a quick look at a smart phone or tablet, the feeder knows how much of each ingredient to load into the mixer wagon. 
As each cow group is fed, the information on the dairy's web portal is updated. At the end of the day, a report on feeding activity is emailed to the producer or entered directly on the personal webpage. 
In the near future, producers set up with a weigh bridge will also be able to use the system to weigh and register all the feeds brought into the feed center, giving users the ability to keep closer tabs on invoices from feed suppliers and monitor feed inventories. "And if you have more than one person feeding, you can track each individual's efficiency," Van Ens notes. 
Currently the app is available only for android phone or tablet users, but Van Ens hopes to have an IOS version available for Apple users soon . He's also working to add a feature to the app which will allow dairy producers to benchmark their feed management performance with other producers. 
Users pay a monthly subscription fee for the app. "Updates and support are included in the fee," Van Ens notes. "There's no software investment and you can end the subscription on a monthly basis."
For more info, go to the company website here.
                                   
Phibro Animate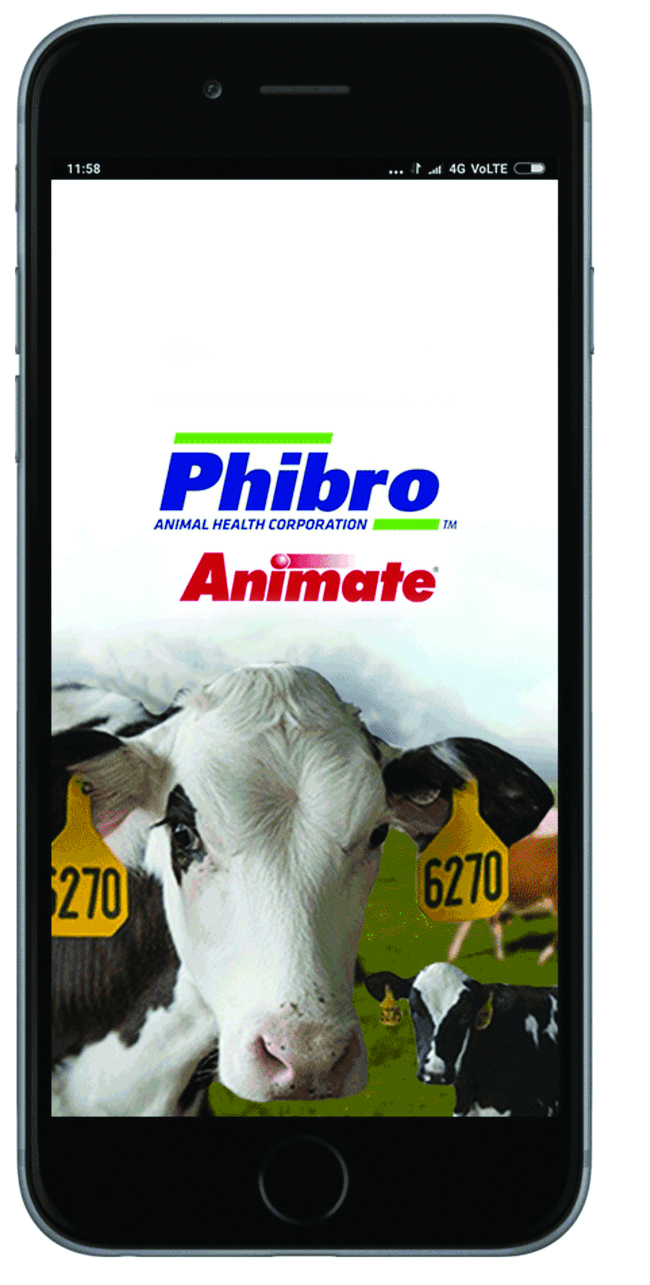 A free mobile app for Phibro Animal Health Corporation's Animate (an anionic mineral) is geared to help dairy producers track critical metrics over time and identify trends in their transition cow management programs. 
Animate anionic mineral delivers the critical minerals needed to help cows optimize calcium metabolism through proper pre-partum acidification. Used correctly, the results can lead to healthier, more productive cows. The app was designed to supply dairy producers and their nutritionists with the critical information to help enhance these health benefits across the herd from the convenience of a smart phone. 
Information relative to pre-fresh, dry cow management---things like urine pH, bunk space, stocking density, dietary cation-anion difference (DCAD) levels, temperature humidity index (THI), dry matter intake and more---is typically collected in a number of different places on the dairy, says Owen Bewley, Director of U.S. Dairy Business for Phibro. "With the app, information can easily be entered by anyone working with pre-fresh cows on the dairy," he explains. "Once it's entered, the data is instantly shared with anyone the dairy producer believes needs to see it." 
Over time, having all the relevant data collected in one place leads to generating historical graphs, charts and tables showing performance that the producer can use in making future management decisions. "You can see what happened and when it happened," notes Bewley. "If mistakes were made, you can take steps to keep them from happening again." 
To learn more about the Animate mobile app, contact your local Phibro representative.