Youth spend countless hours practicing their craft to get animals just right for the show. ( Rick Mooney )
Investing in good equipment and maintaining it in tip-top condition are absolute musts for getting cows properly fitted for an appearance in the Showring, say senior division winners in the World Dairy Expo Youth Fitting Contest. But they're quick to add that having a passion for what you do, being willing to learn from others and practicing as often as possible are equally important.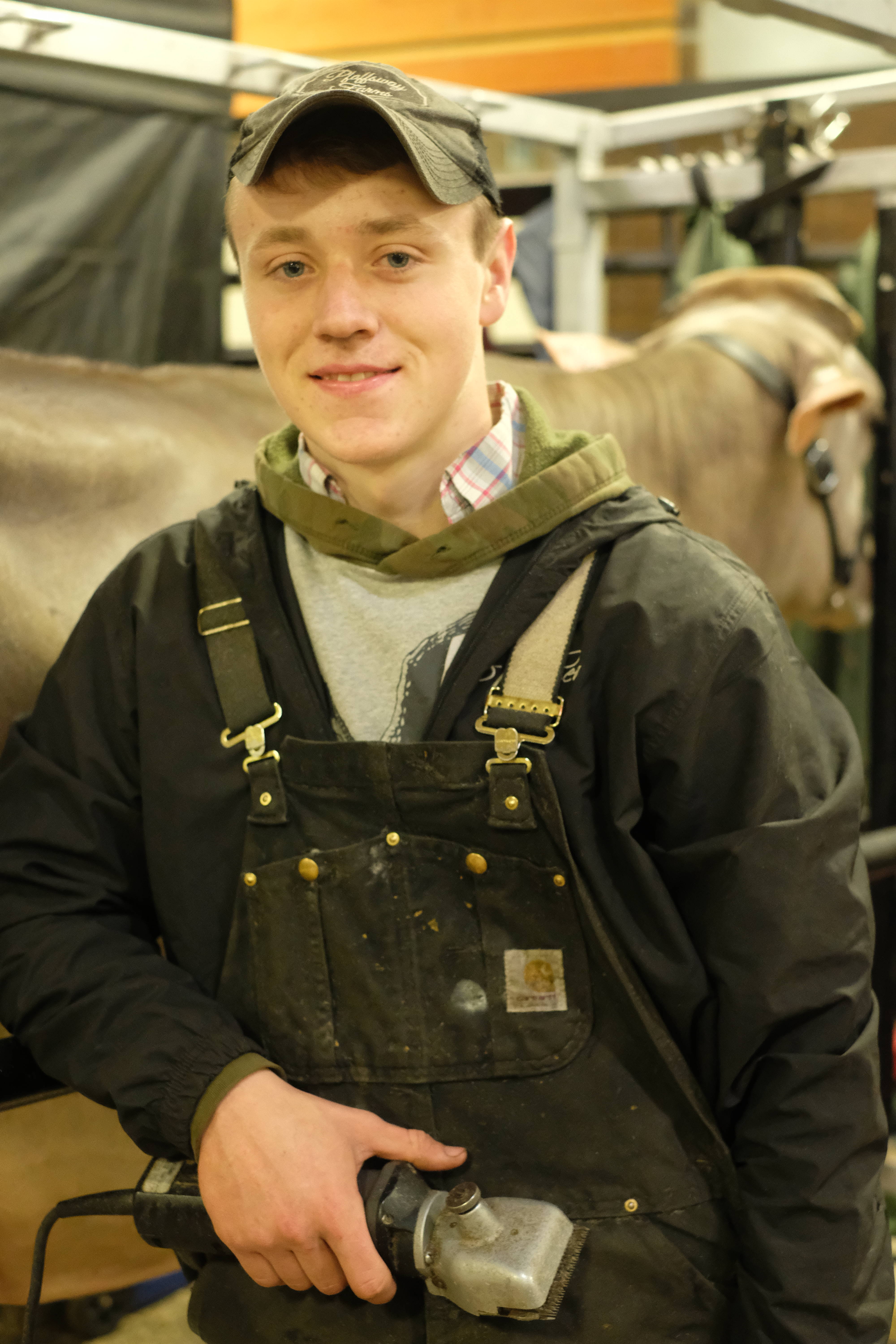 "If you don't have proper equipment, it's hard to get everything looking just the way you want it," says 19-year old Grant Fremstad, Westby, Wis. He captured first place honors in the contest's Senior Male Division in 2018 and also notched a win in the Intermediate Division in 2015. "It's absolutely critical."
Along with the blower he uses on the top line and belly hair, Grant's basic equipment list includes a large clippers for working on the body, head and legs, a smaller clippers for touching up legs and a small udder clippers. "For the udder clippers, I use a 50-blade model to make sure that I don't leave any hair on the bag," he says. "You want to get it looking skin-tight with the veins popping."
Purchasing good equipment is only one part of the battle, Grant emphasizes. Along with frequently sharpening blades on a grinding wheel, he sends his clippers to a professional service technician several times a year for a complete check. "Every time I begin working on an animal, I want to know that my equipment is working just right," he says. "You can't cut any corners and expect to do well." 
Beyond equipment and maintenance, putting yourself in a position to learn from experienced fitters is another key to polishing skills.  
"I was lucky when I was younger," says Grant.  "We'd hire Brandon Ferry to clip cows on our farm. He'd show me what to do and what not to do. I learned a lot from him. I also watch other fitters every chance I get. I hope to learn something new every day. My goal is to be one of the best."
Grant is always on the lookout for opportunities to practice and polish his craft. In the summer before his winning effort in the 2018 WDE contest, he spent just three days at home. The rest of his time was spent fitting at a variety of events---state and local fairs and breed association shows---in Wisconsin, Minnesota, Illinois and Iowa.  "You have to stay at it," he says. "It will take a while. But eventually, if you keep focused, good things will come your way."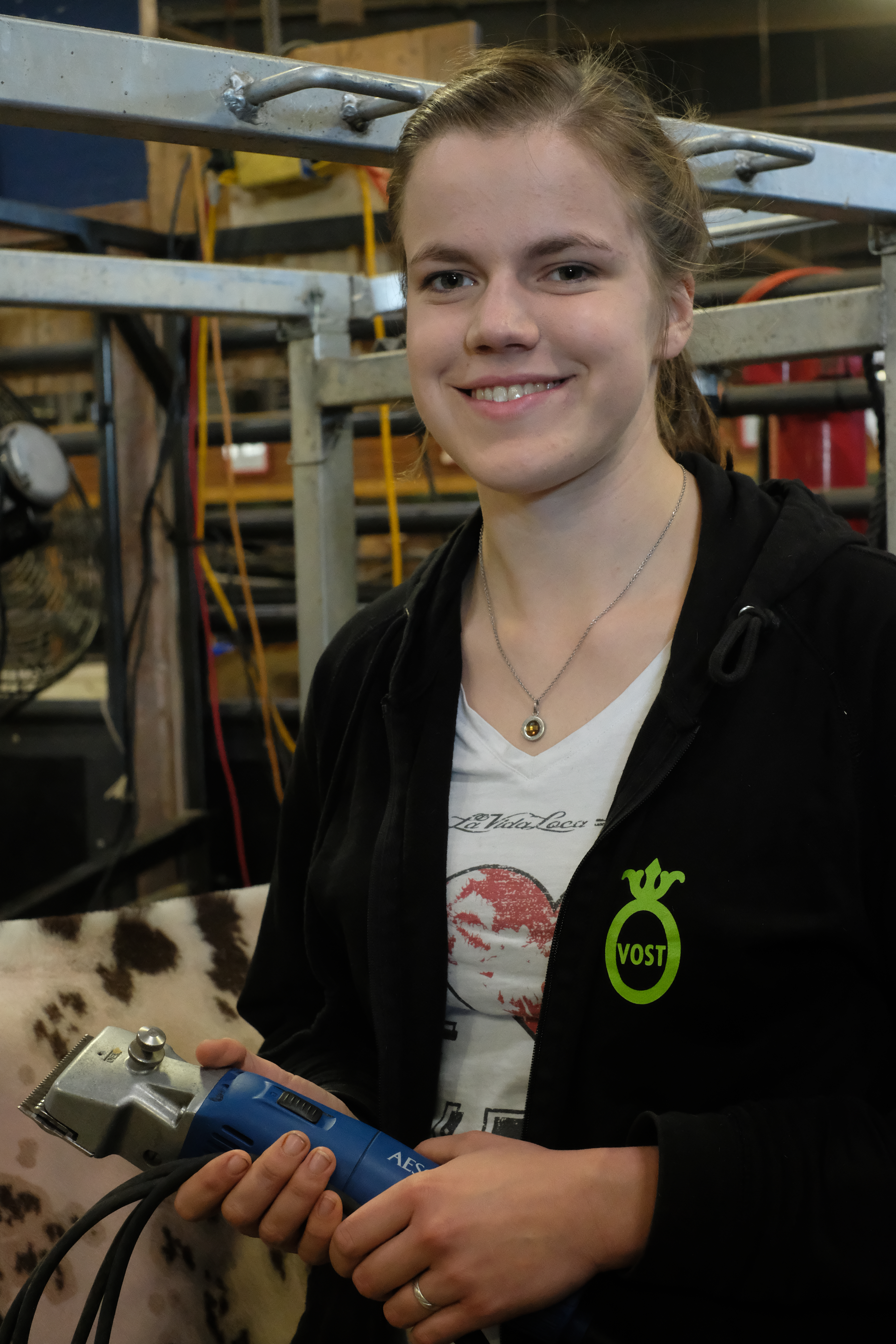 Like Grant, 20-year old Lisa Cramer places a high priority on using good equipment and keeping it in top working order. In last year's WDE contest, Cramer, who hails from Uplengen, Germany, captured top honors in the Senior Female Division. "If your equipment is not working just right, you won't be able to do what you want to do," she says. "Also, the equipment is a big investment. You want it to last a long time. You have to take care of it."
Lisa is a stickler for keeping equipment well-organized while working. Whenever she's done using a piece of equipment, she immediately puts it back right where she found it. "Sometimes at a show, you have to work really fast," she explains. "If you have to stop and take time to look around for something you misplaced, it will slow you down. Then, you will be under more pressure, and you won't be able to do the best job."   
She advises young fitters just getting started to take advantage of learning opportunities whenever they present themselves. Attending fitting workshops organized by a local cattle breeding company when she was in her early teens gave her a good idea of fitting basics. But informal learning opportunities were equally beneficial. "Whenever I'm working with other fitters, I watch to see how they do things," she says. "Then I'll try some of those things myself to see if they fit in my system. Sometimes they work. Sometimes they don't. But trying things is how you get better."
More than anything, Lisa says, becoming a top-flight dairy cattle fitter requires developing the right attitude. "You can't get too proud of yourself," she says. "Once you start thinking you are the best, you stop getting better. If you stay humble and keep things in perspective, you are more likely to look at others and see where you might improve."
WDE Youth Fitting Contest: Things to Know
The first stand-alone World Dairy Expo Youth Fitting Contest was held in 2010. Prior to that it was a part of the Senior Division Youth Showmanship Contest.
The 2018 contest drew a record 34 contestants from 12 U.S. states, two Canadian provinces and Germany.
The contest is open to fitters ranging in age from 13 to 21. The Intermediate Division is for fitters ages 13 to 16. Contestants age 17 to 21 compete in the Senior Division. Both divisions are divided into male and female classes. 
Contest prizes include fitting equipment, neck medallions and cash awards.
In the contest, fitters are given one hour to prepare a dairy animal to show-ready quality.
The 2019 Youth Fitting Contest will be held on Sunday, September 29. Exhibiting at WDE is not required to compete.