Missouri State Fair butter sculpture ( Midwest Dairy Facebook page )
The dairy cow has been a staple in American history, almost as much as Sesame Street or the Apollo 11 mission.  If you're wondering where this article is headed, you'll have to head over to your State Fair, or at least to Facebook.
Butter sculptures have been unveiled at the Iowa, Illinois, Missouri and Ohio State Fairs.  The sculptures commemorate the state's dairy industry and recognize key historical milestones. 
A Facebook post by Midwest Dairy shows pictures of the sculptures, as well as the amount of butter used in each greasy masterpiece.  Iowa's artist Sarah Pratt molded 600 pounds of butter into a Sesame Street display.  Illinois' butter sculpture, also designed by Sarah Pratt, displayed a 600-pound butter cow with the theme of "Building Our Future." Missouri's Tracey Adams celebrated the 20th anniversary of the Gerken Dairy Center with 800 pounds of butter crafted under the theme of "Party 'Til the Cows Come Home."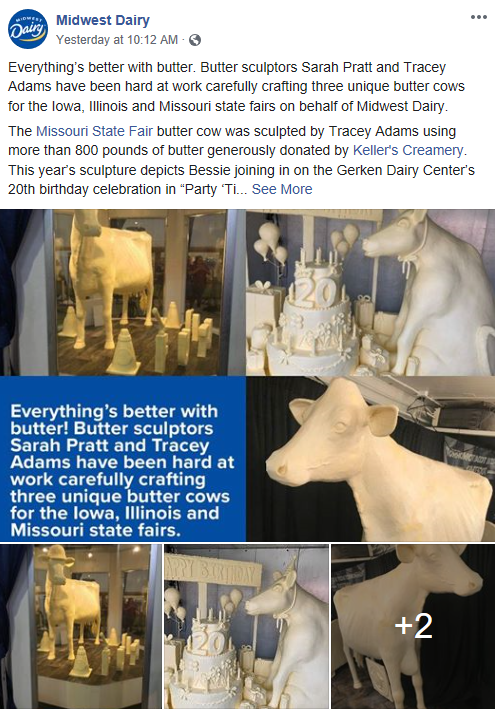 A Twitter post by WDRB News in Louisville described the Ohio State Fair's butter sculpture, commemorating the Apollo 11 mission 50 years ago.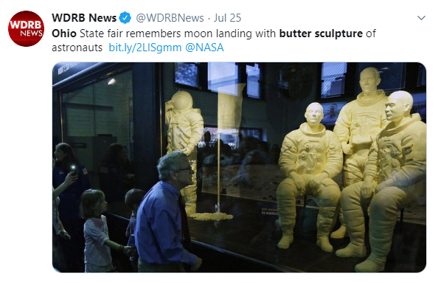 Even the Smithsonian Magazine Facebook page commemorated humans' exploration of the Milky Way with a milky statue.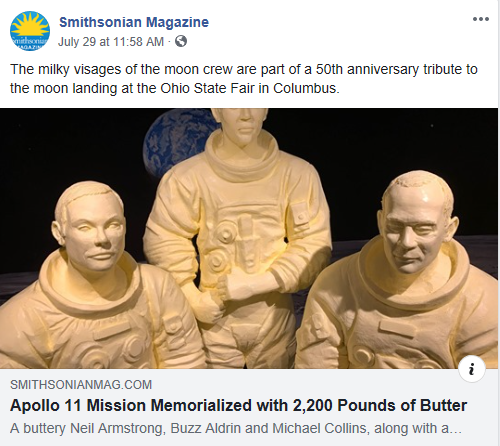 Smithsonian magazine's article reports Ohio's commemoration of Apollo 11 used almost as much butter as Illinois, Iowa, and Missouri combined: 2,200 pounds.
While the astronauts captured most of the attention, a post by the American Dairy Association Mideast highlights the butter calf.  Did you know ear tags help dairy farmers keep good records?  #agliteracy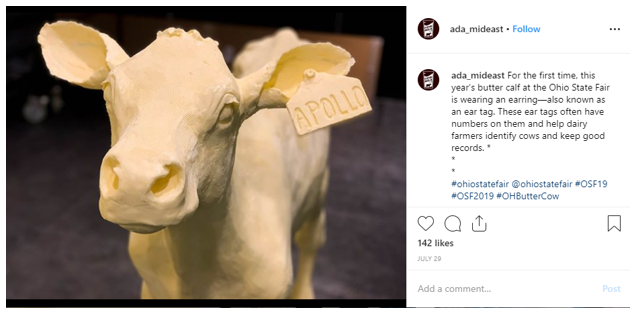 And if the butter sculptures themselves didn't capture enough attention, don't forget about the people who actually visit those sculptures.  It's an American tradition for presidential candidates to visit the Iowa State Fair for a showcase of Americana.
Democratic candidate Sen. Amy Klobuchar, who hails from the dairy state of Minnesota, told the Washington Post she is excited to compare the Iowa State Fair's sculpture to the Minnesota State Fair.  Minnesota carries the tradition of sculpting a butter bust of the year's Princess Kay of the Milky Way.  While the Minnesota State Fair reports it will not open its doors until August 22, it does give a time-lapse video of how its butter sculpture is created.
Guess we'll have to wait a few more weeks for Sen. Amy Klobuchar to announce which sculpture she thinks is the winner.