( Sponsored Content )
Ensuring compliance to milk quality protocols requires more than just showing employees what to do – it requires explaining why it is important, too.
Research1 conducted by Michigan State indicates that hands-on training of new milkers in the parlor is not the norm, especially between employers and Spanish-speaking workers. Often, employees are asked to learn by watching the other milking staff.

"Training and education go hand-in-hand to achieve milk quality compliance," said Dr. Ron Erskine, professor at Michigan State University.  "If you do not have both, there will be protocol drift. I also encourage repetition. Veterinarians and farm managers should stop by during milking times to monitor the milking team and correct any non-compliance."
With protocols in place, it is possible to measure outcomes or changes in the herd. Without protocols, a farm manager is unable to measure outcomes and know if the herd has benefited from implementing these protocols.
What motivates employees to comply with milk quality protocols?  Respect—the number one motivation for any employee is respect. When a dairy has a training and education program in place, it shows respect for its employees. When the veterinarian and herd owner come to the farm and into the parlor, it sends a message to workers that what they are doing is important to the operation.
Job #1: Effective prevention and treatment at dry-off
"Effective prevention and treatment start with sanitation and proper cleaning of the teat," said Dr. Erskine. "The teat is a port of entry for microbes into the animal's body. We know that mastitis is a simple numbers game - the more bacteria that are on the teat, the greater the chance for mastitis."
When using mastitis infusions, try to create an environment that does not include a heavy bacterial load on the cow's teat during milking, which is likely coming from bedding. It is not going to be sterile; there will be microbes at the teat canal; and anything pushed through it, like a plastic cannula, can move bacteria with it, which can overwhelm the system and create infection.
"I recommend to every veterinarian that they should be on site during dry cow day to train the employees, showing them the proper way to clean using alcohol pads, and explain why the steps they are taking are important," he noted. "One critical thing – employees need to be given the time to do the job right. If you have ever infused all four quarters of a dry cow, it takes time to do it right."
The payoff for doing it right is huge. When a cow calves, she will have a reduced chance of clinical and subclinical infection. However, this is often a rushed experience, but it is important to create an environment and culture to let employees do the job well.
Therapy duration is important
Duration of therapy should be established with the veterinarian and herd managers based on tracking evidence-based outcomes, particularly recurrence or relapse of clinical mastitis, or individual cow somatic cell counts. This requires good record keeping and regular review.
"Changes should only be made to recommended duration if the outcome indicators suggest it can be done better," said Dr. Erskine. "The best targets for duration of therapy should be based on farm milk culture and past clinical mastitis history of the cow. Know the bugs you are treating, especially if treating a second time. We know that the type of antibiotic mastitis treatments that are labeled in North America are called 'time-dependent inhibitors,' meaning it's the duration of therapy that's critical, not how high of a drug concentration the cow receives."
1 Erskine et al., 2015, J. Dairy Sci, 98:8240.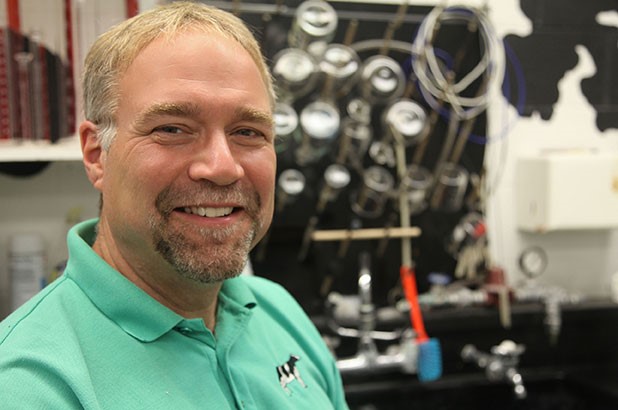 Sponsored by Zoetis