Executive Women in Agriculture ( Top Producer )
According to a recent Farm Bureau poll, 91% of the 3,000 women who participated in the survey said they want to see more women fill leadership roles in agriculture.
That's no surprise, given the results from the 2017 USDA-NASS census, showing increased interest and employment of women in the industry. Today, female producers make up more than one-third (36%) of the nation's farmers—a 27% percent increase from the 2012 census results. In addition, of the 2.04 million farms and ranches in the U.S., 38% are owned or managed by female producers. 
"Women play a vital role in modern farming and ranching," said Sherry Saylor, an Arizona farmer and chair of the American Farm Bureau Women's leadership committee, in a news release. "We hope to use the survey results to drive our program of work and also to give women their voice and help them make even more of an impact in their communities."
With more young women returning to the farm to manage human resources, financial reporting, record keeping, as well as production and technology areas on working farms, the need to provide education on farm business practices has never been greater, notes Sara Schafer, editor of Farm Journal's Top Producer magazine. The publication sponsors the Executive Women in Agriculture (EWA) conference.
EWA features dynamic keynote speakers and educational breakout sessions, as well as unique networking opportunities for women farm owners and operators from around the country. Learn more about the program and register for the 2020 event, slated for January 28-30 in Chicago, here: tpsummit.com/executive-women-in-agriculture/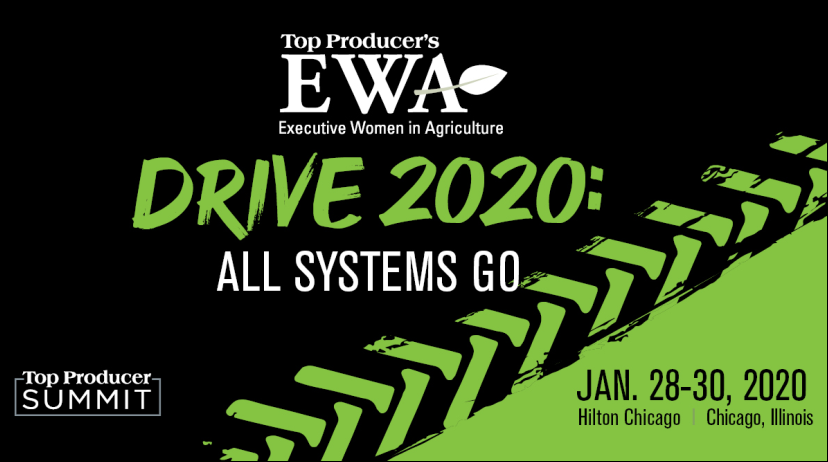 Scroll down to learn more about the Farm Bureau survey results. Full results are available online at fb.org/women.