[email protected]
Just when you thought you were done signing up for crop insurance … you may want to consider a weather contract that you design yourself.
Weather contracts have been available for 12 years, mainly used by energy, retail, construction and transportation companies. Now they are catching on in agriculture.
"Over the past couple of years, there has been increased interest in weather derivatives as an additional risk management tool to help hedge crop yields," says Jamie Wasemiller of the Gulke Group, who works with the Silveus Insurance Group to provide weather contracts.
"Last spring, wet weather delayed planting and late planting delayed crop maturity, exposed crops to the potential for high summer heat during key growth periods, increased the risk of end-of-season freeze damage and reduced the ability to double-crop. This spring, there's a good chance that we will again experience a wet spring."
"There are a lot of holes and issues with federal crop insurance," says David Friedberg, CEO of WeatherBill, a company that markets the contracts. "These contracts are available nationwide and for any crop. The benefits, in addition to your ability to define the risk you want to cover, include no deadlines, no limit on percent of yield, they are not based on your farm's history, no proof of loss required, no claim process and no adjustment process."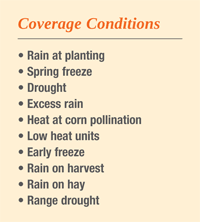 Basics.
Weather derivatives can be customized to your location, the condition you want to cover, level of revenue guarantee and number of acres. You define "bad weather" and the time period. Premiums are based on the likelihood that adverse weather will occur based on historical data, current conditions and short-term forecasts. Premiums change as the situation changes.
The contract will pay out if your definition of bad weather happens, based on data collected by the National Weather Service and recognized regional meteorological orgs. "If an event occurs, you can expect to automatically receive a check within about five business days," Friedberg says.
On the Internet, you can change the customizable information to increase or decrease the coverage levels and the cost of the premium. You can also see the historical payout periods for the past 50 years or so to help determine a contract's viability. You can use the calculator at
WeatherBill.com
, then buy the contract you design through a crop insurance agent.
Tips on Use.
To use weather derivatives as a true hedging tool, Wasemiller suggests the following:
Create a timeline of the entire crop season to determine when the most critical times are for your crops and which weather derivatives would apply to cover those periods. Once you have defined these times, you can evaluate your crops, typically three weeks before a crucial period, to determine whether there is a need to purchase a weather derivative.
Do not pay a premium that is more than 18% of the total coverage payout.
Do not get caught up in the ability to be paid all or nothing.
Cover only acres that are truly at risk—for example, insure acres not covered by crop insurance.
---
Top Producer, Spring 2010