Industry insiders say DFA was the obvious backstop for the Dean Foods fallout, as the company seeks bankruptcy filings. ( Farm Journal )
It's another shake up in the dairy industry. Dean Foods—the largest milk processor, is filing for bankruptcy. Brian Rice of Vault Ag says signs were showing up for months that the company was in trouble.
"I think this was the most expected outcome," said Rice. "In talking to bankers that were in the situation - who were helping investment bankers that were talking to potential buyers from all over the place - it was a really difficult company for somebody to buy as it was. I think the whole marketplace knew that Dairy Farmers of America (DFA) was a backstop."
Dean Foods is blaming a drop in fluid milk demand as the reason the business had to file for bankruptcy. That's the he same reason it gave in 2018 when it notified 100 producers the company would no longer be able to take their milk
Since 1975, Dean Food says fluid milk consumption has dropped 11 gallons per person.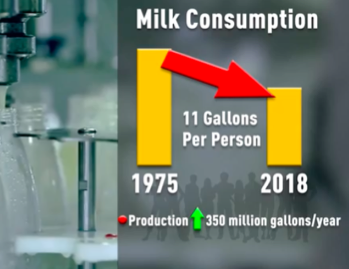 The company citing the growing popularity of pop, juices and alternative beverages like almond juice as all pain points that are eating into fluid milk demand.  
Phil Plourd, president of Blimling & Associations, told attendees at the 2019 Farm Journal's MILK Business Conference this week the actual culprit of muted milk demand overall is cereal.
"Milk's best friend got in trouble," said Plourd. "We eat much less cereal today, and if you were to plot a graph of cereal sales and milk sales, it's the same picture. Cereal sales are down 20% since 2009 by volume, while milk sales are down 18%. It's not much more complicated than that in terms of a big bulk of the loss of sales."
Rice says declining fluid milk sales are to blame, but also a business structure that wasn't changing with the times.
"Class I milk is the core of Dean Foods' business, and they're in a declining category," he said. "It's hard to have a business when you're in a declining category. So, you can't call it poor management, but they were in a bad category, and I think there are other players inside that category - like Fairlife - would be somebody that really sticks out is that really hit a sweet spot of what the consumers looking for right now, and Dean Foods struggled to find that same type of savior."
Dean Foods says it may sell itself to the Dairy Farmers of America (DFA), the largest marketing cooperative in the country. DFA telling Farm Journal it's looking at purchasing assets. Not the company itself.
"Dean Foods is our largest customer and our primary focus is on ensuring secure markets for our members milk," said David Darr, DFA Senior VP,  Chief Strategy and Sustainability Office. "DFA is in a fortunate financial position to be able to withstand a situation like this, and as it's been reported, we've had early conversations with Dean Foods about the possibility and potential sale of assets. Throughout the situation our primary focuses on our mission of delivering value to members and dedication to preserving family farms now and into the future."
One dairy producer who supplies to Dean Foods told us he hasn't heard anything from Dean Foods about the bankruptcy filing. He's had no communications with the company. He found out from news headlines that hit Tuesday.
Related Story:
Dean Foods Files for Bankruptcy, Hopes To Sell to DFA