Farm Journal, Inc. ( Milk tanker. )
Dairy exports have been on the rise lately, reaching their highest value over the past four years. Milk production, in contrast, is on a slow decline. But what's causing this and how will it affect milk prices? AgDay's Betsy Jibben explains. 
May Milk Production: See How Your State Fared
Milk production in May was down 0.4% across all states compared to last year, according to USDA. Total production sat at 19.055 billion pounds, up from 18.468 billion pounds in April.
Within the 24 major dairy producing states, production was down 0.1% in May compared to last year. Total production in May was at 18.1 billion pounds in those states, up from a USDA-revised 17.6 billion pounds in April. 
Production per cow averaged just 11 pounds higher than May 2018, but 63 pounds higher than April 2019. 
While cow numbers have seen a steady decline for several months, the U.S. herd added 5,000 cows in May compared to April, but is still down 89,000 head from May 2018. Even the slight bump in cow numbers was unexpected, given the increased slaughter totals.
To see how state production totals fared, click on this map.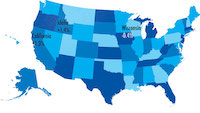 What's Driving Down Production?
Lower milk production this spring and feed quality and price issues this summer all bode well for milk prices this fall.
Already, both Class III and IV futures prices in July and through the rest of the year are above $17 (with Class IV remaining above that mark through May 2020.)
Class III prices could top $18 in October and November, says Bob Cropp, a University of Wisconsin dairy economist in a podcast posted recently. 
Dairy farmers and other close watchers of dairy markets might wonder why prices aren't even higher, says Mark Stephenson, a colleague of Cropp's at the University of Wisconsin.
But a couple of factors play into the supply/demand equation. First of all, butterfat and protein levels in the milk farmers are shipping are higher than normal, he notes. "If you look at the yield in the cheese vat, that milk production is not actually down," he says.
The other factor is exports, says Cropp. In April, milk powder exports were down 25% and butterfat exports were down 71%. China's whey imports were also down 70%, the lowest level in 9 years. Exports now represent about 14% of U.S. milk production. See April exports here.
With milk production down, you don't need the higher levels of exports to sustain prices, says Cropp. At the same time, lower exports aren't spurring demand and driving prices higher.
Still, world demand is sustaining itself and supporting better-than-breakeven milk prices. Rabobank is projecting a $7.15/kg payout price for New Zealand milk powder prices, which translates to about $18/cwt equivalent here in the United States, says Stephenson.
Cropp expects Class III prices will average from $16.50 to $16.70/cwt for 2019. That might represent a break-even price with a $1 basis. And it's far better than the less than $14 the Class III price started out at in January and February.